Search Engine Marketing (SEM) & Your Small Business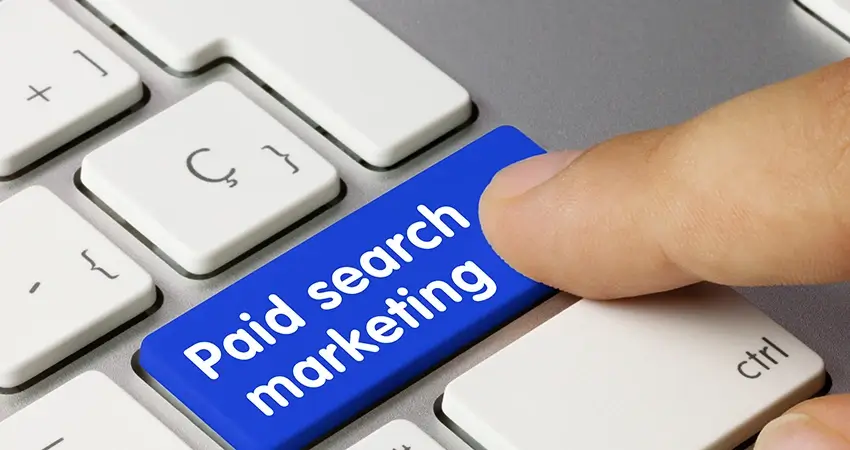 Most small business websites average fewer than 16 visits a day. 13% are lucky to see 5 daily visits. (Source: BrightLocal) "If you build it, they will come" doesn't apply to unoptimized small business websites.
So what's a small business owner to do? Sadly, you may need a whole new search-friendly website. Emergency surgery won't fix a local business with stage 5 trafficosis.
In the meantime, paid search, or search engine marketing (SEM), offers the shortest path to high-conversion traffic. And it doesn't have to cost a mint.
What Is Paid Search?
Paid search, also known as pay-per-click (PPC) advertising, lets you buy the keywords of your choice and appear in the sponsored listings of a search results page (SERP).
"Rent" may be a more accurate word because you can never own the keywords you buy. You're renting them one at a time, click by click, to drive targeted local traffic to your site. What's so special about that?
9 Benefits of Paid Search
Paid search traffic is immediate. You're turning on a traffic spigot: as much traffic as you're willing to pay for.
Paid search listings appear above organic listings. They occupy prime real on the search results page.
You can send a click anywhere: to your home page, contact page, or even a landing page optimized for conversions and the keyword bid.
You can customize the message of a paid search link. The title and description can say anything you like, as long as they meet Google guidelines. This differs from organic search, where Google increasingly rewrites page titles and descriptions, whether you like it or not.
Paid search clicks usually convert at a higher rate than organic. That's because they're so customizable in their message and destination.
You control when and where your paid search ads appear so that they show only for the keywords that lead to sales, at a time of day when you can answer the phone, and in a geographical area you service.
You can bid on virtually any keyword, including keywords related to a competitor's brand (Google has relaxed the rules).
Paid search can supplement healthy organic search traffic, say, during peak season or for special promotions.
You set the budget for your paid search campaign. It automatically pauses when you reach the limit.
More on Paid Search & How It Works
Paid search lets you target local searches for your products or services and steer prospects to any page on your website. It can be a top-of-the-funnel marketing tool to attract new customers or a bottom-of-the-funnel tool to convert customers already familiar with your brand.
When someone clicks on your ad, Google charges a set amount per keyword and position.
Who defines the amount? You do. You decide what you're willing to pay. This makes paid search a foolproof method to raise your online visibility and drive quality traffic to your website.
You don't need a full-blown website for paid search to work — any online presence will do, including a Facebook business profile or a free-standing landing page.
Google Adwords Dominates Paid Search
As of 2022, Google has an 87% share of paid search in the USA. It's 7% for Bing and 3% for Yahoo. At Culture Cube, we stick to Google Ads for practical purposes. It's a better way to spend our time (and your money).
Some large corporations with huge paid search budgets employ the same strategy, finding it more profitable to place all efforts in the Google bucket. Google paid search gives you four options:
1. Traditional pay-per-click ads
These are text ads placed above organic listings in the search results.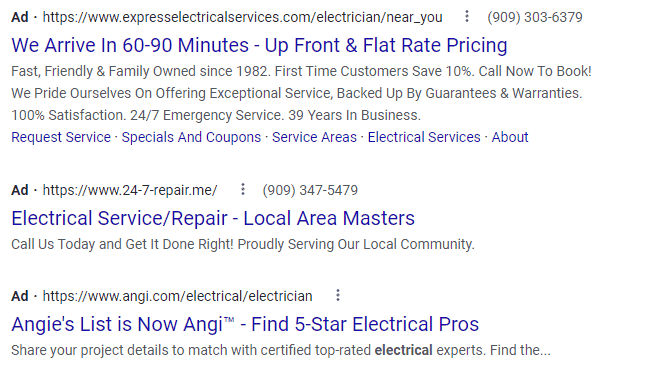 2. Google Shopping ads
Google Shopping features product images, names, prices, and vendors in a carousel arrangement. They can appear at the top of a page, above even paid search listings, or off to the right. They're useful for e-commerce sales but irrelevant for most Culture Cube clients.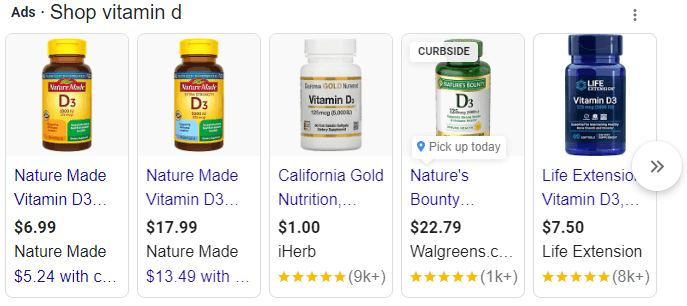 3. Google Local Services ads
Local services ads appear at the top of results for local searches like "electrician near me." They're automatically localized (restricted to your service area) and are highly effective for Culture Cube clients, most of whom are local small and medium businesses.

4. Dynamic Google Ads
"Ideal for advertisers with a well-developed website or a large inventory, Dynamic Search Ads use your website content to target your ads and can help fill in the gaps of your keyword-based campaigns." (Source: Google Support)
For the local websites we rebuild, where copy is detailed and thorough, dynamic ads convert at a high rate and cover a wide keyword net.
Culture Cube's Philosophy & Approach to Paid Search
We focus on relevance to save you money
We're not interested in having your site show up for every keyword. Just the right keywords to generate quality leads.
We understand how to write ad copy and build landing pages to improve your ad relevance and lower the cost per click (Google charges less for more relevant bids.)
High relevance also increases conversion rates and boosts quality scores. Again, Google rewards the quality and relevance of ads and landing pages by charging less per click.
We bid on less competitive, cheaper, but high-conversion keywords
Glamorous, high-volume keywords are first and foremost in the minds of some small business owners. "Plumber." "Electrician." These head terms cost a fortune and convert badly, if at all.
This is true across all industries. "Level 2 EV charger installation near me" gets far fewer searches than "electrician," but it's a high conversion term where we can direct prospects to the EV charging page with clear links to contact information.
Less used, "long-tail" keywords are the worker bees of the paid search hive. Without them, there's no honey in the comb.
We focus on mobile because that's how people search
Over 60% of Google searches originate on mobile devices. The good news is that paid mobile traffic converts well for a local business like yours. The keywords are cheaper, and there's a bigger payoff.
We also bid on tablet and desktop searches but at lower bid costs based on conversion rates and cost per lead. In some industries, there's little difference in conversion rates by device type.
Performance always guides our decisions. Like a wise investor, we'll place your bid money where it delivers the best return.
We test, monitor, and adapt
Set and forget is a poor strategy for paid search. We monitor all PPC campaigns and make constant adjustments to ensure you're getting the most for your investment: the most qualified leads and the most exposure for your business at the best possible price.
Our Results Keep PPC Customers Happy
We don't require contracts.
We offer full transparency reporting.
We design tracking systems to measure the return on your ad spend from day one.
It's a customer-centric, cost-effective approach that clients love. Some clients have been with us almost as long as Culture Cube has been in business.
Why Culture Cube for Your Search Engine Marketing?
Culture Cube specializes in marketing for local service businesses like yours. We know your business, and we know your business area.
This close connection with our customers helps us craft the most effective and efficient paid search campaigns.
If you're struggling to get your service or product in front of the right audience, paid search advertising can solve your problem almost overnight.
We don't impose long-term contracts; you can cancel at any time if you're unsatisfied with the results or our PPC campaign. Our transparent reporting shows you everything we see:
Where you're performing well
Where you're performing poorly
Where we may need to integrate a website strategy
Together, we'll make the most of your marketing budget. Call us today for a free consultation!

Peter Losh is the SEO Director of Culture Cube Marketing in Upland, California. He's also a de facto UX designer, site builder, and content creator. Unlike most folks in the SEO biz, he works directly on the sites he optimizes, having witnessed the effects of recommendations that go ignored or misunderstood (in previous gigs).
Peter has worked on websites since the salad days of the internet, first as a graphic artist and web designer at the Centers for Disease Control. Then came several years of freelance web development, SEO and e-commerce management for business sites of various sizes, and ultimately a 10-year stint as the sole SEO Manager of PartyCity.com.
In his spare time, he enjoys classic film, classical music, and classic comebacks. And cats.
Professional Work Experience
Search engine optimization
Ecommerce management
Conversion rate optimization
UX design and analysis
Copywriting and training
E-mail campaign design
Web design and development
Graphic design