Small Business Organic SEO Services
SEO stands for "search engine optimization," or the art of getting web pages to rank higher in the search results. 
Traditional organic SEO focuses on keyword rankings and keyword-driven traffic.
Years ago, you could sprinkle keywords on a page, make a few adjustments, and get the page to rank.
That approach no longer works. Keywords remain a factor, but you can't apply them to bad copy like seasoning for award-winning SEO recipes. Google now has artificial intelligence — near human, by some accounts — and isn't so easily fooled.
SEO at Culture Cube: the 10,000-ft View
We specialize in service industry marketing. Our clients include plumbers, electricians, appliance repair companies, and makers of custom window treatments.
We also serve multi-store retailers with local e-commerce.
Because we specialize, we're better informed than most marketing agencies about your local business, can write better copy, and understand your website's needs in terms of traffic and conversions.
SEO is a core service at Culture Cube and not an add-on. Our clients depend on organic search, Google Maps, and 3-pack listings for their leads.
We don't consult. We do. SEO is baked into every website we build and maintain. We won't leave you hanging with useless SEO "advice."
We don't hire interns and overseas contractors. Experts with proven track records perform tasks most impactful to SEO, including copywriting and site UX (user experience). They build the pages on your site.
We tailor SEO services to your needs and budget. We don't waste time and money on low-yield projects and outdated tactics.
We believe paid advertising should be optional. An optimized website and Google My Business listing can generate more than enough traffic and phone calls.
Why SEO Matters to Your Business
A website with good search visibility gets "free" traffic you'll otherwise have to purchase from Google, Bing, and other sources. A percentage of that traffic will lead to phone calls and contact form submissions.
Small business websites never rank well by chance. When your pesky competitor floats to the top of the search results, someone is doing the hard work of SEO behind the scenes — even if it's little more than writing informative copy.
For an HVAC business, first-page rank for keywords like "HVAC near me" could be enough to keep the service calendar full and the trucks running.
But most small businesses get only a hint of organic traffic, and the lion's share of their monthly advertising budget may go to feed the Google Adwords beast.
According to Search Engine Journal, "Local business websites receive 50% of their traffic from organic search, with 37% coming from direct visits… 13% of local businesses receive fewer than 100 visitors to their sites each month, while 55% receive fewer than 500."
You read that right. 55% of local business sites like yours get fewer than 500 visits per month.
That translates to 16 visits per day — maybe.
We can fix that.
Paid Search Is a Hole in Your Pocket
Whenever someone clicks your Google Ad, it costs you anywhere from a few cents to several dollars.
Paid search is the pricey apartment you already can't afford, and yet the rent continues to rise. SEO is an investment, like the house that accrues value over time.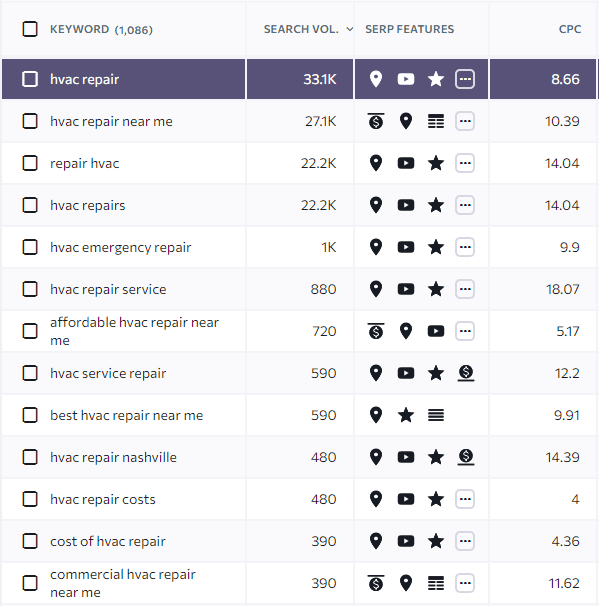 The cost per click for prime HVAC keywords.
Why do small businesses buy $10-a-click keywords when the average conversion rate across all industries is under 5%?
Because they have to. As noted, most small business websites see little or no traffic. Yet over 90% of potential customers search online for a local business.
Is it even possible for a small business to free itself from paid search? It is, and we've accomplished that for several clients. But it takes time, know-how, experience, and effort to create a well-optimized website that attracts enough organic traffic to sustain the business.
New Site, No Traffic. What Gives?
Search-optimized pages don't magically appear during a site redesign, like mushrooms after a rainstorm.
Someone has to research the keywords, carefully plan the site, optimize site architecture, write optimized copy, code optimized webpages, and so on.
"Free" search traffic takes time and effort beyond concepts, layouts, content development, and imagery. Not everyone can make a site attractive to search engines. Google has a different standard of beauty.
The upfront effort pays for itself if the people redesigning your website know what they're doing and care about the quality of their work. Often, they don't.
Even large agencies can muck it up. Interns and underqualified employees may perform most of the SEO and redesign tasks.
But at Culture Cube, people with years of experience handle the critical elements of SEO and site construction, including strategy, site architecture, conversion optimization, copywriting, and page building.
Organic SEO vs. Local SEO
#1 rank for a keyword used to guarantee up to 40% of the clicks on the first page of search results. That no longer holds. Google has pushed most organic search listings well below the fold.
Localization is the logic behind the local 3-pack, introduced in 2015. It appears above organic listings when searches show local intent, like "HVAC near me."
If you're looking for HVAC service in Los Angeles, CA, do you care who's on call in Poughkeepsie, NY?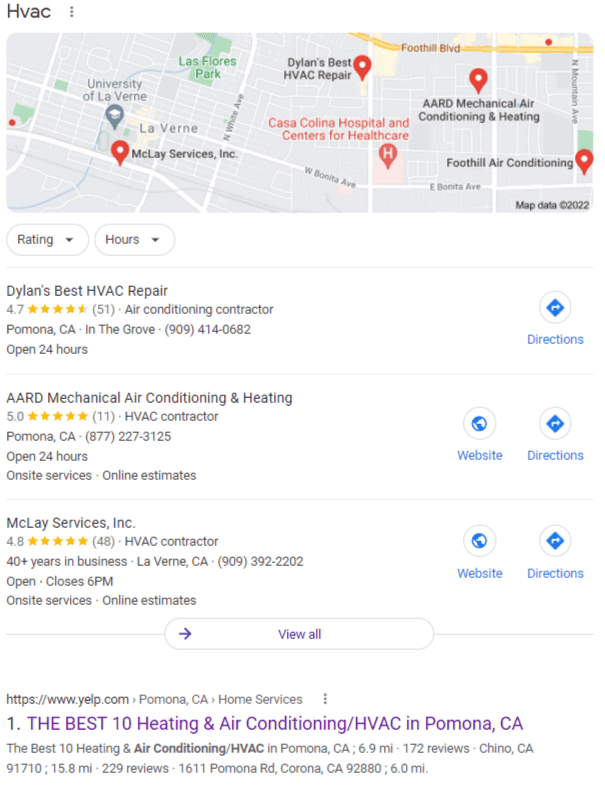 Probably not, and local search is Google's attempt to deliver the most relevant results for businesses with local service areas.
Google Maps and the local 3-pack, which pull their information from Google Business Profiles, are now hyperlocalized to the point where searches half a mile apart can deliver wildly different results.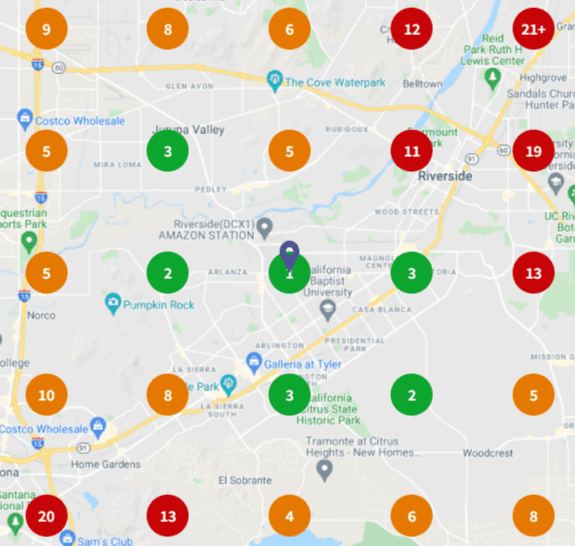 The local search rank for a Culture Cube client varies dramatically by location (green is good, red is poor). Here, grid points are only two miles apart.
Upon its debut, Google's 3-pack threw the SEO community into a tizzy.
Some site managers saw their search traffic drop by 50% or more. Searchers were clicking on the 3-pack instead of the blue organic links below it or never venturing past the search results page. Google had turned off the SEO spigot.
"Why then should I worry about keywords and SEO," you may ask, "if they're no longer the sole reservoir of organic traffic but just one source of several?"
Because even now, they're essential to your online visibility.
We see in our phone tracking at Culture Cube that organic and local SEO are equally important, together contributing to 50% to 90% of all calls for the accounts we manage.
Local SEO Has Limited Ties to Your Website
Local search, which manifests itself in Google Maps and the local 3-pack, depends on a set of signals separate from your website:
The consistency of your business listing — name, address, and phone number (NAP)— across the internet.
Your reputation, especially the quality, volume, and recency of customer reviews on your Google Business Profile (GBP).
The quality of information on your GBP.
The number of photos uploaded to your GBP.
The searcher's location.
The searcher's preferences and search history.
Local search optimization is a separate service at Culture Cube and may not be covered in your site redesign, depending on your contract. We encourage you to include it in your marketing package with us.
To learn more, please visit our local search service page.
SEO at Culture Cube: A Closer Inspection
Let's take a peek under the hood at Culture Cube. High-octane small business SEO! Vroom vroom!
All digital marketing agencies promise top-tier SEO services when they sign you up. Some perform those services as promised. Many don't.
A fact of life in digital marketing is that:
Most small agencies can't afford or retain real SEO experts. Search engine optimization falls on the shoulders of someone learning on the job, or who may be competent in one aspect of SEO, like copywriting, but not technical SEO, UX design, front-end coding, and other things affecting your site's ability to rank.
Most large agencies won't give a small business the time of day, let alone assign their best people to your account. The hotshots are promoted from small accounts to corporate accounts, or they leave for the lucre dangling from the branches of a rival agency. It's a near certainty that someone fresh out of college will write your blog content, design your pages, and "optimize" your site.
Here's where Culture Cube stands out.
Our SEO experts are the real McCoy. Some of us earned our SEO stripes building and optimizing small business sites during Google's infancy. Our staff SEO resume includes tenures with the CDC, corporations with multimillion-dollar e-commerce platforms, and agency work with dozens of small businesses.
People with real-world SEO experience will work directly on your site. They'll devise the site architecture, collaborate on the design, write the copy, make detailed UX recommendations, build pages and optimize them for load speed, and perform dozens of other tasks often assigned to junior employees or farmed out to freelancers.
We take ownership of SEO projects and feel personally responsible for the results. If your website doesn't deliver the traffic and leads we promised, we'll do everything possible to correct the problem.
We like working for a small agency. Smart people often do because a small agency offers freedom, work diversity, and challenges unavailable at the biggest firms. Where else can a dedicated SEO hire do a little bit of everything and directly and dramatically impact a site's success? Certainly not with the Big Boys, where most of your time is spent reporting and in meetings.
SEO in Our Website Design Process
Site redesign at Culture Cube is a collaborative process involving account managers, UX and graphic designers, SEO specialists, copywriters, and developers (coders).
1. We meet to discuss your business.
This preliminary in-house meeting introduces production staff to your business and helps us understand your company history, business goals, and pain points.
2. We audit your site's SEO health.
We crawl your site for errors, review content and site architecture, and identify barriers to rank. We begin tracking your site in our SEO platform to measure progress.
3. We analyze customer behavior and intent.
Click data, heat maps, and scroll maps show us what customers are doing on your site.
Analytics tell us which pages they're visiting (and how they're getting there) and which pages are never used.
Before we design your site, we'll know what to feature, consolidate, enhance, or discard.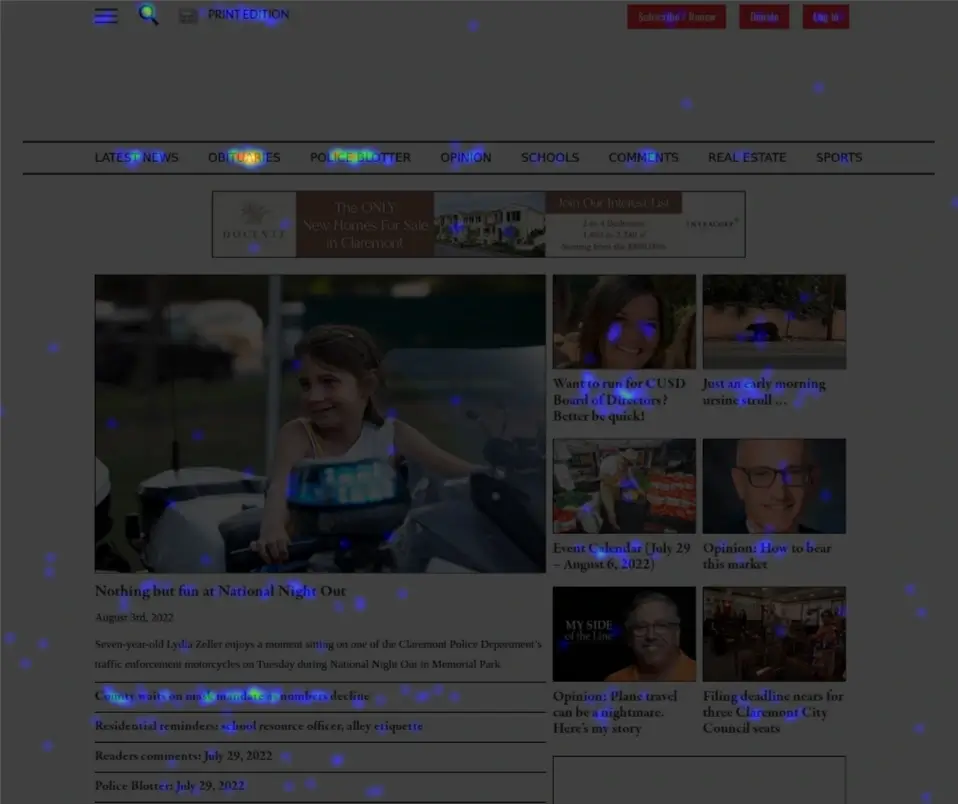 A heat map shows which areas of a page invite the most engagement and which links are clicked the most.
4. We research your keywords.
Some sexy high-volume keywords will never lead to a sale, while less glamorous long-tail local keywords may convert like crazy. Keyword themes guide our decisions about site organization and content development.
5. We silo site architecture logically.
"Site architecture" is another name for the organization and hierarchy of your website. It's almost an afterthought at many agencies, large and small.
The task often goes to a designer who rarely, if ever, looks at analytics (site data). The designer may simply apply a fresh coat of paint to the site you already have, or worse, copy a competitor's site, thus duplicating the mistakes your competitor is making.
At Culture Cube, we'll organize your site into natural search silos and logical hierarchies, but only after we've done our research and looked at UX data.
Search engines love search silos, which organize content in keyword themes. Customers do as well. If you're extolling the virtues of your HVAC services, it's far better to have the information in one or two places, not scattered about your website.
5. We incorporate UX into our template designs.
"UX" stands for "user experience" — how customers experience your site from initial page load to navigation and the contact form.
How often have you visited a website where you couldn't find the information you needed? Where unclickable banners looked like links, and gray text sank into busy low-contrast backgrounds?
It won't happen at Culture Cube. What's good for the customer is also good for search because low bounce rates and high engagement contribute to better search rankings.
We make the navigation clear, the copy easy to read, and customers will have a compelling reason to click the eye-catching "Contact Us" button.
6. We write search-optimized copy for customers, not search engines.
You've all seen the horror that is copy written for search engines.
Back in the day, it went something like this:
Are you spending too much on Google Adwords? Do search engines ignore your site?
Culture Cube's small business SEO services can help! Our small business SEO services will supercharge your small business SEO to compete with any small business! We care about your small business and will get your small business SEO to work for you!
Thank goodness Google, Bing, and other search engines have progressed beyond mere keyword density and now understand context, keyword ecosystems, and the proof terms that establish relevance.
One can write much more natural copy and get it to rank — precisely what we do at Culture Cube.
Our SEO experts do the grunt work of editing and polishing your old copy, writing new copy, and presenting it in a way that engages and informs. It also performs well for search.
In contrast, most agency SEO copy is little more than keyword fluff. It's there for search engines, and Google rewards this SEO spam less and less with each passing day.
Most customers don't read web copy — at least not in paragraphs and blocks.
They scan. Their eyes dart from heading to heading, gleaning nuggets of information and pausing on headings of particular interest.
With this in mind:
We write copy to be scanned rather than read. Short paragraphs. Lots of bullet points. Plenty of white space. Clear, simple copy converts much better than muddy jargonese.
We frontload essential marketing points on every page and offer an early call to action (usually a "contact us" button).
We include informative, keyword-rich headings. The cardinal SEO sin is to place a single word at the top of a page in the heading 1: "HVAC," not "HVAC Repair, Installation & Service."
The average site visitor reads only 28% of words on a page and rarely scrolls to the bottom.
72% of Culture Cube site visitors will never reach this very sentence. We thank you for your persistence.
We build fast-loading pages to lower bounce rates.
Page load speed is a factor in rank. How much it affects rank remains debatable, but we know this: it's a critical factor in customer engagement and conversion.
"As page load time goes from one second to 10 seconds, the probability of a mobile site visitor bouncing increases 123%."
Source: Think with Google
In other words, if your pages take too long to load, most customers will leave before they read a word of copy or even see your phone number. They'll go to a competitor site that loads faster.
At Culture Cube:
We strike a balance between information and imagery on a page.
We test every template for page load speed before approving it.
We convert images to next-gen formats like WebP and SVG, giving you sharp images with small file sizes.
We optimize server settings for efficient delivery of page assets.
If you're wondering about your site's performance, try this free evaluation tool from WebPageTest.org. Then call us.
We design for mobile, not cinema audiences.
In 2021, over 60% of Google searches occurred on mobile devices. Market research shows that mobile searchers are far more likely to contact a business with a mobile-friendly site.
Remember this as you're viewing the mock-ups for your new site on a 43-inch high-resolution monitor or a massive flat-screen TV in the conference room. Most customers experience your site on a screen that fits the palm of their hand.
What makes a site mobile-friendly?
Responsive design; proper resizing on mobile devices.
Adequate spacing between links, lines, and elements.
Optimized images.
Fast page load!
And on it goes.
We'll design a site appropriate for your audience, sized for site visitors' most common screen resolutions.
Is your site mobile-friendly? Try this free tool from Google. Then call us.
We build pages for conversion.
All the free traffic in the world does you no good if it doesn't convert. For most businesses we serve, a conversion is a lead: a phone call or form submission offering the potential of a service call.
We've seen sites where 95% of traffic comes from outside the service area, often overseas.
The type of content we write and how we write it can partially correct this dislocation, but an even easier fix for conversion woes is to ensure that the user always has a clear path to high-conversion pages and contact forms.
We track your site post-launch and make adjustments.
After your website launches, we'll run periodic crawls, update the redirect file, and monitor the site in Googe Analytics, the Google Search Console, and SE Ranking (our SEO platform).
A temporary traffic drop is expected as search engines reindex the site. Complete reindexing can take as little as two weeks or as long as a year. You should see significant traffic and call volume improvements within three months of launch.
The False Promise of High Keyword Rankings
No doubt you've seen the spam message in your email inbox. It usually goes something like this:
Your site doesn't rank for important keywords.
Because your site doesn't rank, you're missing out on oodles of traffic, and who knows how much revenue.
For a mere X dollars, we'll make your site rank! At which point you'll become rich beyond your wildest dreams. Free traffic from Google!
The spam email gets one thing right: a site that drives no search traffic isn't helping you much.
But here's what it gets wrong:
There are no easy wins in SEO. If there were, don't you think your competitors would have tried them?
SEO is a process. It's a website design and content-building approach, not a one-time application like a coat of paint. Plus, Google's algorithm updates several times daily — the rules can change without warning. Google cares less about keywords than relevance, authority, and a searcher's state of mind (intent). Simple SEO tricks don't cut it in an age where Google understands context and scores the quality and authority of content.
Quick "fixes" to your SEO are a waste of time. Sure, it's good practice to add metadata to pages and ALT tags to images and to shore up internal links. But a broken site will remain broken long after the SEO wizards have performed their quick fix magic and moved on to the next victim.
The Principle of E-A-T in Content Creation
E-A-T refers to "expertise, authority, and trust," a concept Google introduced in 2018 to reduce content spam in search results. Quality content written by experts and posted on trusted sites will rank better than SEO spam.
Most of us in the SEO world welcomed the Google algorithm update because it brought Google search results in line with our own view that one page of informative, well-written content is worth more than 50 pages of SEO fluff.
It gives Culture Cube writers an even more compelling reason to take their time producing the best possible content for your site.
Searches "Near Me": Local Search Has Exploded
The average American now logs more screen time than sleep time. In 2011, only 35% of Americans owned a smartphone. By 2021, it was well over 85%.
You'd think that all Google searches would show exponential growth, but this isn't the case. Ironically, search for many of the bigger keywords, the so-called "head terms, has declined.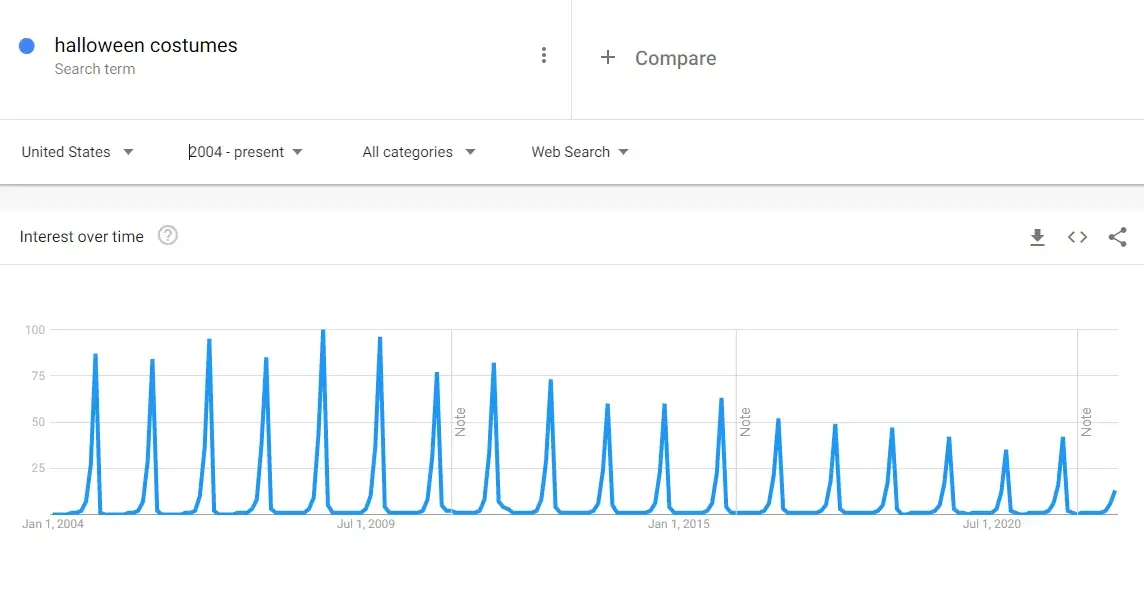 With the rise of mobile devices, voice search, and AI-enabled features like autocomplete,
search behavior has changed dramatically. Long-tail and local keywords are on the rise.
Customers are looking less for "HVAC services" and more for "HVAC near me" or "HVAC repair in Riverside CA."

The US search trendline for "HVAC near me." The data comes from Google Trends. We've prettified it because, well, we can't help ourselves.
The average customer today is far more internet savvy than a decade ago.
Customers are less willing to browse. They want an immediate answer to their query.
Autocomplete and voice search have made it easy to enter precise local search terms.
Again, local search has less to do with website optimization and more with your Google My Business listing, your reputation, and the consistency of your business name, address, and phone number (NAP).
Local search optimization is yet another service we offer at Culture Cube. Please contact us to learn more.