Small Business SEO 101: Why Your Local Website Gets No Traffic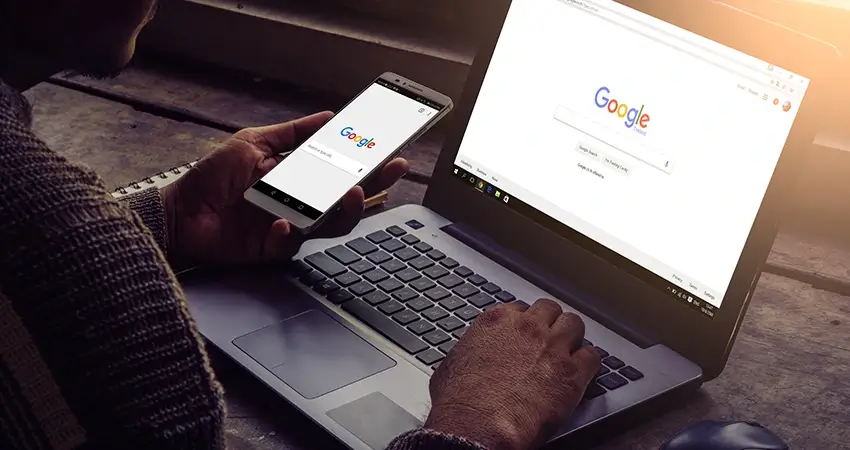 You've heard the term "information website," but exactly does it mean?
An information website is a site providing information on a particular topic. That's it! There's no special format — an information website can be a blog, a forum, a directory, or even a list of links.
Or it can be a small business site. Maybe a local services site like yours. Assuming you have information to share.
93% of customers use online searches to find a local business. They don't dig through the mail for the flyer you sent out on Friday or drive around town to find you.
No — they enter a search for "plumber near me" or some other local term, and maybe, just maybe, your site pops up in the results.
We're guessing that it doesn't, though. Life is tough for small business information sites, especially when they don't hold much information.
Most small business websites get little or no traffic.
"On the lower end of the spectrum – 13% of local businesses receive fewer than 100 visitors to their sites each month, while 55% receive fewer than 500. On the higher end, 20% of businesses receive more than 1500 monthly visitors to their site, and 15% receive over 2500 visitors."
(Source: Search Engine Journal)
"Why is that," you may wonder, "when some keywords have huge search volume?"
Local Business Sites Have a Hard Row to Hoe
As a plumber, you may have a service radius of forty miles.
How many competitors are within that radius? And how many have information websites of their own?
But you're not just competing against them. You're competing against Angi, Yelp, and national chains with much bigger marketing resources, all of which enjoy a brand advantage with Google.
They're all getting a head start, and you have to work that much harder to stay in the race.
So assuming you don't have tens of thousands of dollars a month to spend on marketing and you're already overspending on Google Ads, what are some simple, cost-effective ways to keep the phones ringing and the trucks running, not just in the peak season, but all year long?
1. Claim, verify, and optimize your Google Places for Business profile.
For the local websites we manage at Culture Cube, Google Places for Business (GPB) drives anywhere from 30% to 50% or more of the phone calls we track. They come from the local 3-pack, the GPB featured callout, or Google Maps.
GPB is a very, very big deal.
Every business with a physical address has a GMB profile. Google automatically creates one for you.
However, only 44% of local businesses have claimed and verified their GPB profile, according to a study.
That's also a big deal. Google uses GPB information for the local 3-pack display — the business 3-pack listing that floats above the organic results in local searches — and for Google Maps.
Have you ever wondered why your competitor always seems to show up and you don't? Chances are your competitor has claimed, verified, and optimized his GPB listing.
I won't go into the details here because Google already has excellent support documentation. Read the Google guidelines, or go straight to the Google business page to stake your claim.
Default GPB listings are far from optimized.
It's your job as a small business owner to optimize your listing, or you can hire an agency like Culture Cube to do it for you. Once you've verified your GPB listing, you should:
Ensure that the business name, hours, address, phone number, and links to your website are correct.
Write an informative and accurate business description (up to 750 characters).
Update the cities you serve.
Update the services you offer.
Add as many photographs of your business as you can — no ads or stock photos.
Never exaggerate your service area or the services you offer — the tactic won't gain you more exposure and will undermine your credibility. And never attempt to expand your service area with a second GMB listing unless your company has a second physical business address, with a sign posted outside and someone sitting at a desk to answer the phone.
Google takes a dim view of tricksters who game the system, and any attempt to do so will get your business suspended from most local search results and Google Maps. You'll appear when people search for your business by name, but not for non-branded searches.
2. Ask satisfied customers to post a review.
The most critical factor in local business search rank is customer reviews on Google. The more reviews you have, and the more favorable and recent those reviews are, the more you'll show up in local searches.
Ask your customers to post a review on your behalf. But never offer money or discounts, or it becomes a purchased review, and you may wake up one day to find your GPB profile suspended.
Respond to customer reviews whenever possible, if only to thank customers for posting a review. Google smiles at high response and engagement rates.
3. Strengthen your NAP & Localization.
NAP stands for name, address, and phone. Your NAP consistency directly affects your ability to rank for local searches.
Google looks for NAP information on your website. It should match the NAP information of your GMB listing exactly.
Place it in a global element like the website footer.
Include your business hours.
Use schema markup to call out NAP information on your website.
Great! That was easy enough! What next?
Sadly, your NAP duties have only begun, because your site is listed on Facebook, Yelp, Angi, Apple Maps, and who knows how many directories. And each listing, or citation, could be different — different hours, maybe a different address (if your business has ever moved), a link to an old website that no longer exists, and so on.
Google is scouring the internet for information about your business, and not just your GMB profile and company website.
Inconsistent names, hours, addresses, and phone numbers in your citations across the internet weaken your business's NAP signals.
Weaker citations and NAP = weaker localization.
You now face the onerous task of tracking down and correcting all those citations. It may take months to complete, or you could pay an agency like Culture Cube to clean up the citations for you, create new citations, add schema to your home page, and consolidate your localization signals.
4. Claim your Yelp listing.
Yelp is the second-most important directory for local businesses. It's where customers post reviews and where they go to learn more about a company before they decide to visit or make a purchase.
If you're not on Yelp, you're missing out on potential customers. But if you are on Yelp, and your listing isn't claimed, you're also missing out — because anyone can edit an unclaimed Yelp listing. All it takes is for a disgruntled customer (or competitor) to change your NAP information, hours, website link, and so on.
Claiming your Yelp listing is easy enough — simply create a business account and follow the steps to verify ownership of your business.
You should update your business description, post notices and offers, and consider advertising directly on Yelp.
5. Claim your Bing Places for Business listing.
Bing isn't as vital as Google or Yelp when it comes to local search, but it's still a major player.
And like Google and Yelp, if you're not on Bing, you're missing out on potential customers.
Claiming your listing takes only a few minutes. Bing lets you import your GPB listing, photos and all, and beyond that simple import, your Bing profile may need only 10 minutes or so of configuration.
6. Optimize your website for local SEO.
Surprise, surprise, your website is also an important factor in your rank for local searches. Here are a few tips:
Display your NAP information prominently on your website, preferably in the footer.
Consider creating city pages for the areas you serve. These are templatized, localized pages optimized for a city name and service, i.e., "24-Hour Plumbing Services in Riverside, CA."
Use geo-targeted keyword phrases throughout your website content and your titles, headings, and meta descriptions.
Optimize your website for mobile — more than 60% of all searches occur on mobile devices.
Make sure your website is fast — site speed is a ranking factor.
Use secure website hosting — Google favors websites with an SSL certificate. Over 30% of all cybercrime targets small businesses.
For a more detailed explanation of the factors in rank, please visit our local vs. organic SEO blog post.
7. Get yourself listed in Google Local Services Ads.
Google Local Services Ads (LSA) are a new way for local service providers to get their businesses in front of prospects.
The ads appear at the top of the search results page, above the organic listings and even the local 3-pack, and include your company name, address, phone number, customer reviews, business hours, and more.
Getting listed in Google LSA is free — but it's not easy. You must first pass a Google background check, and there's no guarantee you'll be selected to participate in the program.
Google charges for the ads on a per-lead basis. A click is considered a lead, and the cost depends on the type of business you're promoting and the geographical area you service.
If you're serious about getting your business listed in Google LSA, consider working with an agency specializing in the program.
8. Post more information on your "information site!"
How many "information" sites have we seen with nary a scrap of information? Far too many, in my opinion.
Listing your services in bullet points won't cut it with Google or most customers who need details and assurance.
When your annoying competitor shows up in the rankings and you don't, chances are he made an effort to write a few pages about the services he provides. In the meantime, you have your bullet points.
Google aims to deliver the most relevant result for a search query. Until you give Google something to work with, you get nothing.
9. Launch a blog, and start blogging.
On a site averaging 300+ visits a day, we've seen a single blog post drive 20% of all organic traffic and a surprising number of phone calls.
It's easier to boost organic traffic with blog posts than with information pages (there's less competition), and a blog offers several other advantages:
Repeated blogging can establish you as a subject matter expert.
You can post a blog socially and not just on your website.
You can repurpose blog content in newsletters and email campaigns.
A weekly blog post will give Google a reason to return to your site.
A blog can drive traffic to other pages on your website (and help those pages rank higher).
Blogs are perfect for long-form content, which Google loves.
A blog is a powerful tool that should be part of every local business' marketing arsenal. If you're not already blogging, start today. It doesn't have to be perfect — just start.
10. Implement schema on your website.
Schema is a code that you can add to your website to help search engines understand your content.
Schema markup applies to everything from recipes to events to products, and it's crucial for local businesses.
Adding schema to your site can help your business show up in features like Google's Local Pack, Knowledge Graph, and carousels.
Schema is relatively easy to implement, but if you don't have the time or expertise to do it yourself, consider working with a marketing agency.
11. Promote your content — everywhere!
"If you build it, they will come" only works in the movies. Online, you have to actively promote your content if you want people to see it.
There are dozens of ways to promote your content, and the best way to do it depends on your resources, audience, and goals.
Some popular content promotion strategies include:
Social media marketing
Email marketing
Paid advertising (e.g., Google AdWords)
Influencer outreach
Content syndication
PR and media relations
No matter how you promote your content, do it often. Consistent promotion is key to driving traffic and generating leads from your blog posts and other web pages.
12. Keep your site fresh with new content.
One of the best ways to keep people coming back to your site is to add new, relevant content regularly. This helps you attract new visitors and gives Google a reason to keep indexing your site.
Content can include:
Blog posts
Videos
Infographics
Product pages
Landing pages
Testimonials
Case studies
New photos and images
Whatever content you add, make sure it's high quality, relevant to your audience, and evergreen enough to continue driving traffic for years to come.

Peter Losh is the SEO Director of Culture Cube Marketing in Upland, California. He's also a de facto UX designer, site builder, and content creator. Unlike most folks in the SEO biz, he works directly on the sites he optimizes, having witnessed the effects of recommendations that go ignored or misunderstood (in previous gigs).
Peter has worked on websites since the salad days of the internet, first as a graphic artist and web designer at the Centers for Disease Control. Then came several years of freelance web development, SEO and e-commerce management for business sites of various sizes, and ultimately a 10-year stint as the sole SEO Manager of PartyCity.com.
In his spare time, he enjoys classic film, classical music, and classic comebacks. And cats.
Professional Work Experience
Search engine optimization
Ecommerce management
Conversion rate optimization
UX design and analysis
Copywriting and training
E-mail campaign design
Web design and development
Graphic design