Local SEO Services & Google Business Management
Most customers are surprised to learn that local search has less to do with their website than their reputation.
Heck, you don't even need a website to flourish in local search.
Traditional, keyword-based SEO and local search are as different as the red and blue states. They have different values and priorities.
The good news is that you can rank locally faster with a verified Google Business Profile than with a search-optimized website. But the two in combination — an optimized business profile and a search-friendly, content-rich website — can deliver a powerful marketing punch. And loads of phone calls and traffic.
We can help you get there.
What Is Local Search?
When you're looking for a plumber in Los Angeles, CA, do you need to know who plumbs in Rochester, NY?
Probably not. Google understands the local search intent and shows a 3-pack of plumbers near you, complete with city locations, phone numbers, business hours, and average customer rating.
By the same token, a search from Google Maps implies local intent. Google displays local results in the sidebar and location icons on the map.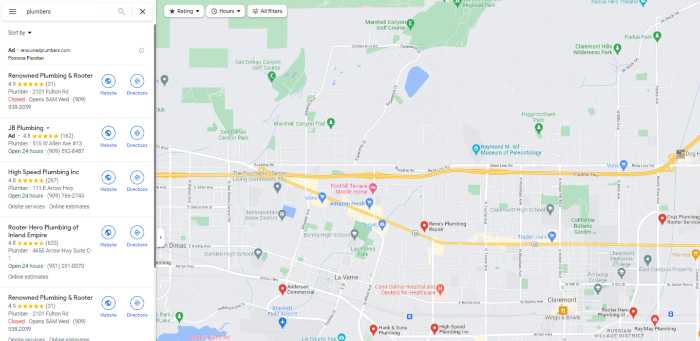 How Local Search Works
Traditional SEO (search engine optimization) is keyword-based. Website health is paramount, and great content attracts traffic.
Local search looks at different signals:
Your Google Business profile. Have you verified and optimized it?
The strength of your location information. Do you have different business names, addresses, and phone numbers (NAP) all over the internet?
Your reputation. Have customers reviewed your business on Google? And are those reviews positive, numerous, and recent?
Google displays local search results in the local 3-pack and in standard text links below them.
The 3-pack enjoys business class seating near the top of the page. Standard organic listings ride economy class a little further down. Your business information, location signals, and reputation factor into your position.
Google search results are now so hyper-localized and personalized that two searches a mile apart can deliver very different results.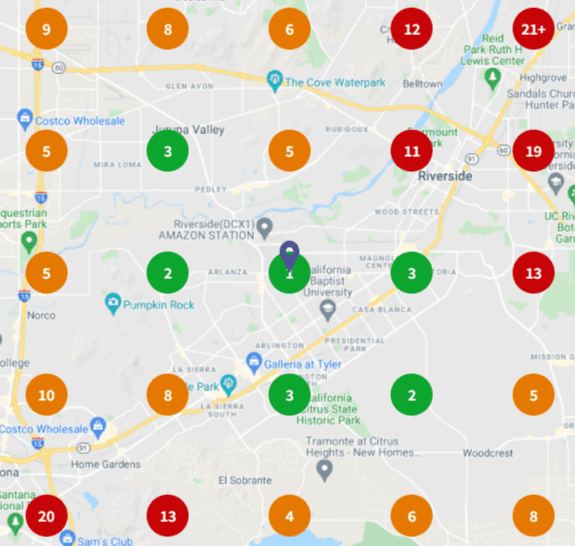 The local search rank for a Culture Cube client varies dramatically by location (green is good, red is poor). Here, grid points are only two miles apart.
Why Local Search Is Critical for Your Service Business
9 out of 10 customers find a local business online. They won't find yours if you have a shoddy website, a neglected and unverified Google Business Profile, and spotty citations (BBB, Apple Maps, Facebook, etc.).
Your site won't appear in search results, perhaps not even for your company name.
Your site won't appear in the coveted 3-pack placed high on the search results page.
If you manage to gain a spot in the 3-pack, your listing may show the wrong phone number, address, or business hours.
Your site will see the tiniest trickle of traffic — maybe a handful of daily visits. Some of those visits will come from overseas and other states.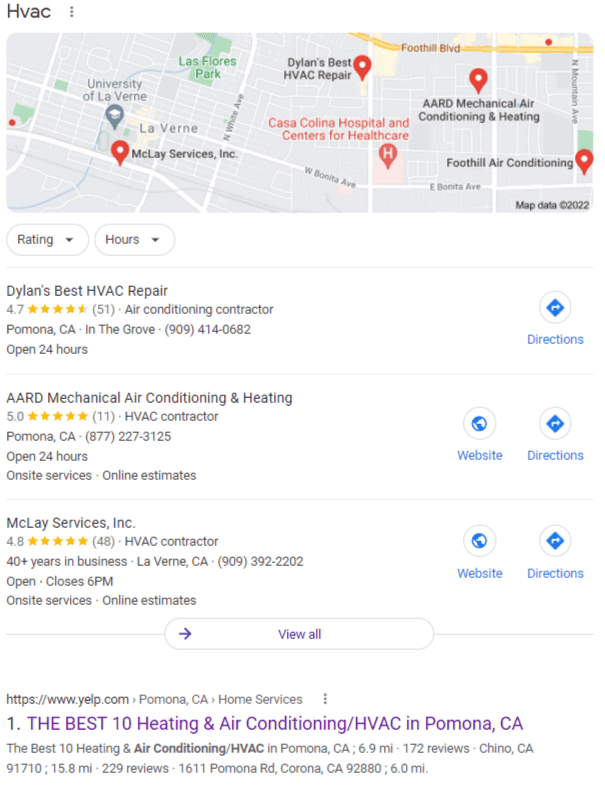 A business with good local search visibility gets free phone calls and organic traffic. On the other hand, poor visibility means that you'll face the prospect of buying traffic and leads.
Searches "Near Me": Local Search Has Exploded
The average American now logs more screen time than sleep time. In 2011, only 35% of Americans owned a smartphone. By 2021, it was well over 85%.
You'd think that all Google searches would show exponential growth, but this isn't the case. Search for many high-volume keywords, the so-called "head terms, has stagnated or even declined.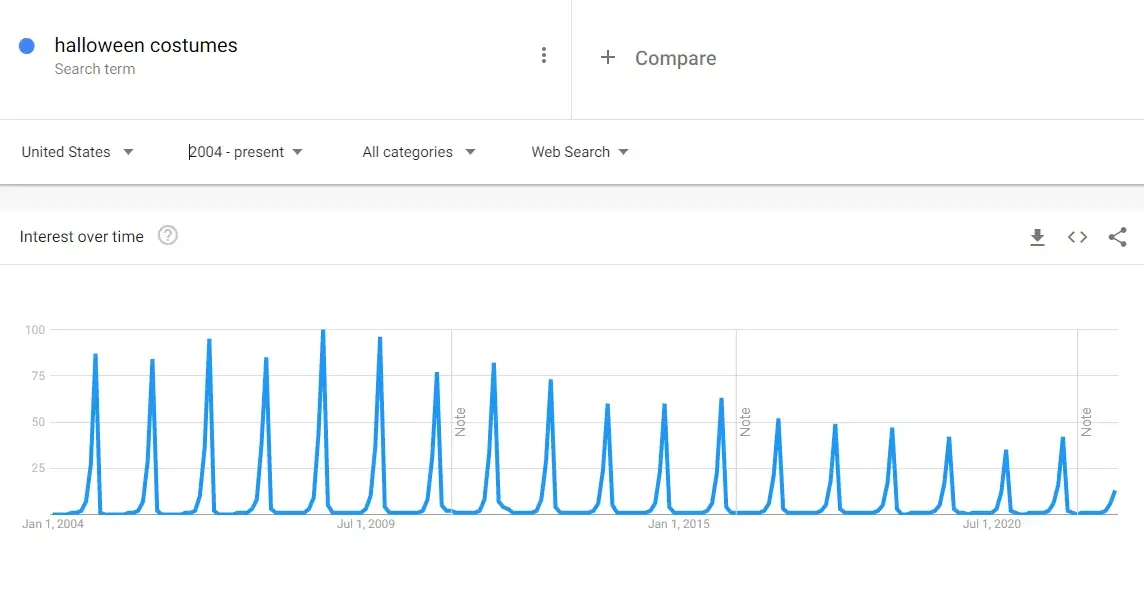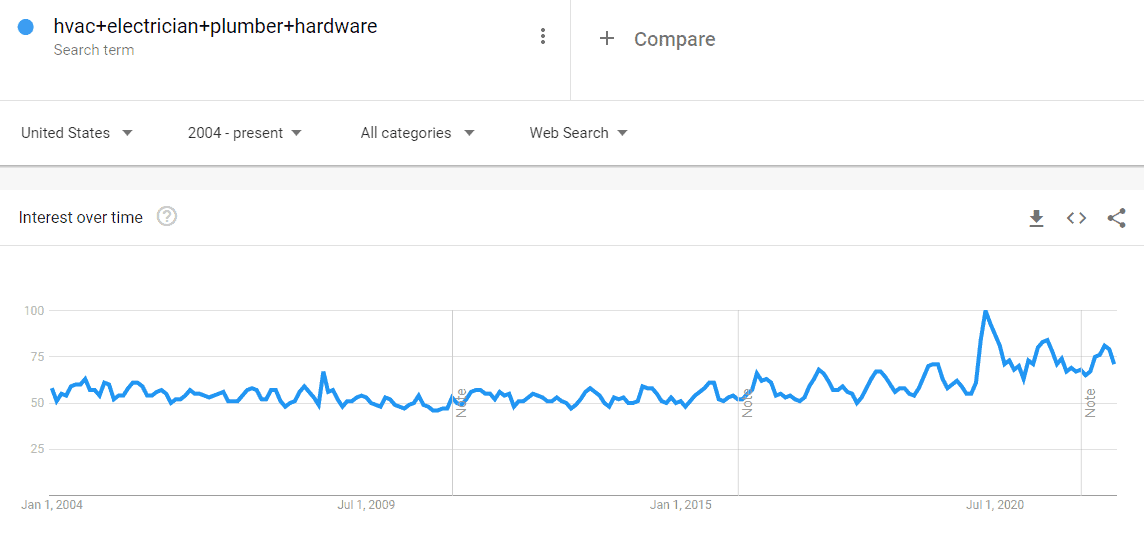 With the introduction of mobile devices, voice search, and AI-enabled features like autocomplete,
user behavior has changed. Long-tail and local searches are on the rise.
Customers are looking less for "hardware" and more for "hardware near me" or "hardware in Los Angeles."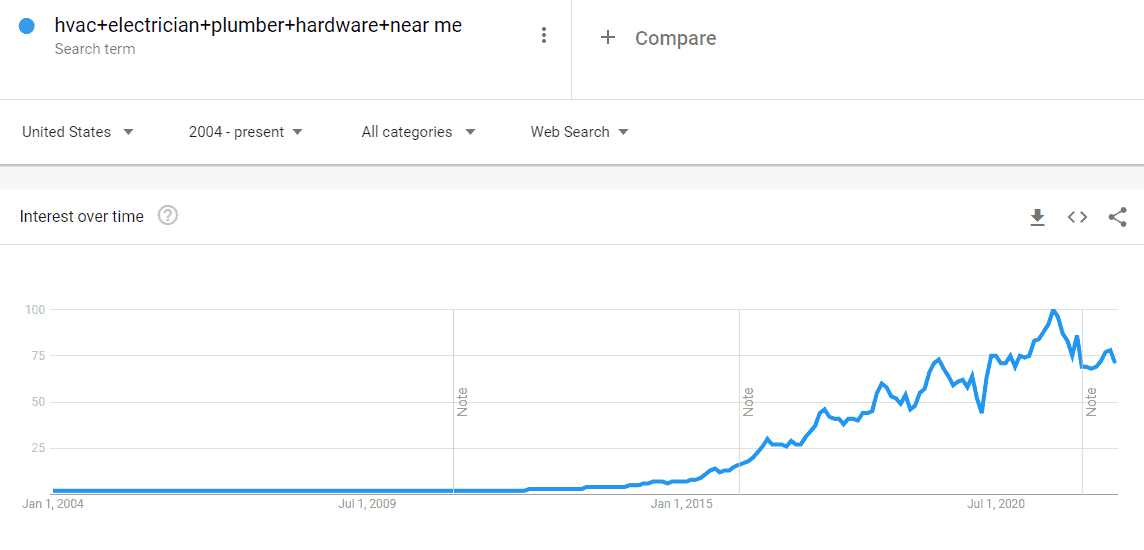 The US search trendline for "hardware near me." The data comes from Google Trends. We've prettified it because, well, we can't help ourselves.
The average customer today is more internet savvy than a decade ago.
Customers are less willing to browse. They want an immediate answer to their query.
Autocomplete and voice search have made it easy to enter precise local search terms.
Mobile devices have changed search behavior and hyperlocalized results.
Google Business Management: Let Us Handle It!
Every business has a Google Business Profile. Google creates one whether you like it or not, and it's up to you (or us) to claim, verify, and optimize it.
Why bother if Google already handles your profile?
Your business may not show in the 3-pack until your profile is verified. Verification tells Google that the business information is accurate and curated.
The information in your default business profile may not be correct. Google trawls the internet, capturing data from sites of varying quality. Your business name, hours, and phone number are only as good as the information on the internet — unless you control the narrative.
Google won't optimize your business profile. Only a human can. By verifying a listing, adding and tagging photos, rewriting the description, and including complete and accurate information, we've seen businesses begin to rank in some local searches.
Anyone can suggest an edit to an unclaimed profile — even a competitor or disgruntled customer. Google screens these suggestions, but wouldn't you rather have us do it instead?
How the Process Works
We'll claim your Google Business Profile on your behalf.
Google will send a postcard with a verification code to your business address.
You'll give us the code to complete the verification.
We'll add you to the Google Business account so that you can message customers directly.
We'll optimize your Google Business profile, adding business categories, updating information, uploading and tagging photos, and rewriting your business description.
We'll periodically post on your Google Business profile (i.e., whenever you have a special promotion) and share the posts on Facebook and other social sites (if we have the logins).
Why It's Better to Have Us Manage Your Google Business Profile
Google has strict guidelines for Google Business. Anyone breaking the rules can and will have their account suspended.
You won't show up in the local 3-pack.
Your customer reviews won't display.
Your business will rank for your business name but not much else.
You may get the bright idea of "expanding" your service area with a second or third Google Business listing in other cities. "But we do serve those cities," you splutter.
Google doesn't care. Your profile must be tied to a physical address where someone answers the phone and pays the bills.
One location. One business profile. Them's the rules.
Hire us to manage your profile. We'll stay within guidelines and do what's best for your business.
Hey, You Also Get Bing Places for Business for Free!
As a bonus to our Google Business management service, we'll import your listing into Bing Places for Business. Your business will appear on Bing Maps and searches with the correct phone number and address.
NAP Citations (Name, Address, Phone) & Local Search
Remember the good ol' pre-internet days when the phone book occupied a place of honor in the American home? If you don't, your parents do.
How else could you find a plumber? A painter? A hardware store in your area?
White Pages gave you the phone number and address (if you knew the business name), and Yellow Pages advertised the businesses by category. Today, a full-page Yellow Page ad can set you back several thousand smackers a month.
Why bother when you have Google Business instead? But Google fact checks your business name, address, and phone number (NAP) against internet directory listings (citations) like the Yellow Pages online.
Google trusts your Google Business information more when it matches a high percentage of citations, especially the most important ones.
If you've been in business for a decade, have ever changed address, or have listed more than one phone number, your citations could be a cacophony of conflicting information.
A NAP audit will show where the citations match your Google Business profile and where they don't. And we can clean up most citations while adding new ones to improve your NAP profile.
Customer Reviews & Local Search
Google values your reputation above all other factors combined. One-star Google reviews are killers for local search.
On the heels of negative reviews, we saw a client's Google Maps calls for a month drop from 291 to 165 year over year. The client's average customer rating on Google Maps bottomed out at 2.0 stars out of 5.
Organic calls were up yearly, but they couldn't compensate for the difference. The client had no choice but to spend on Google Ads.
One or two negative reviews won't hurt as long as your overall rating remains high. The key is to keep your average customer rating in the high 4-star range and always ask happy customers to post a review on your behalf.
Some platforms can request reviews automatically via text and email after a transaction. They link to or host a billing database.
That's not a realistic option for most Culture Cube clients, so we recommend you remain on good terms with your customers and communicate often. If you don't, you may notice an immediate difference in phone call volume.
Reinforcing Local SEO with an Optimized Website
If you're not on the first page of Google Maps, or the first page of organic results, then prospects will never find you.
And they'll never see your website unless they search for your business by name. The first page of a local search gets 95% of clicks. The second page gets 5%.
To remain in Google's good graces, your website:
Must be mobile-friendly and fast loading.
Should offer comprehensive, search-optimized information about your services.
Should have clear service area information and possibly localized city pages.
Should display your NAP in schema format.
Should link to your Google Business profile and encourage customers to leave reviews.
Local SEO isn't a one-time job. You have to keep at it or risk losing your ranking. We can help by auditing and maintaining your website and Google Business profile, optimizing your NAP, and monitoring your progress over time.
What We'll Do for You
When you partner with Culture Cube for local SEO services, you can expect:
A verified and optimized Google Business Profile.
A low-cost but effective citation clean-up campaign.
A comprehensive website audit to identify any technical issues that could hold you back in Google search results.
Optimized website content that is keyword rich, informative, and engaging.
An efficient link-building strategy that includes directory listings, citations, and link-baiting with blog content.
Comprehensive tracking and reporting so you can see the results of our efforts and make informed decisions about future marketing initiatives.
Please call us today to learn more.