Google Business Profile Is the Best-Kept Secret in Local Marketing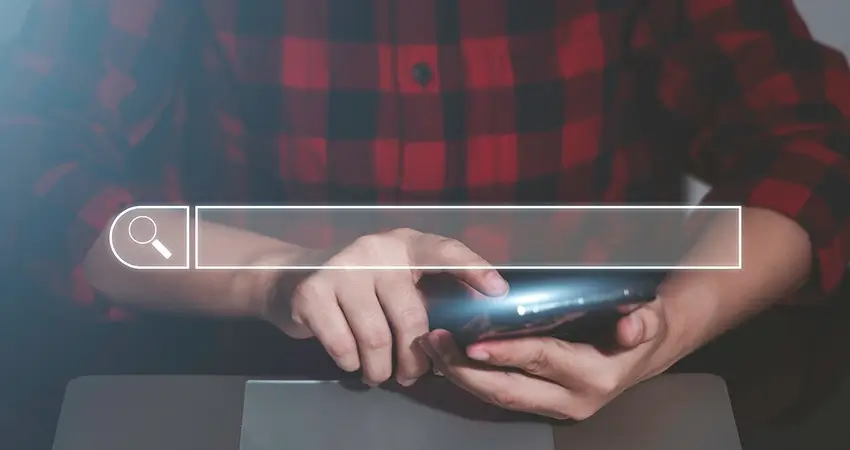 Few business owners realize how little their website influences local search.
Google considers different factors, not your search-optimized copy from Agency XYZ.
"But wait!" you protest. "They told me I needed an optimized site!"
You do, but you need something else, too — far more critical to local search than your state-of-the-art website.
That "something" is an optimized Google Business Profile (GBP), the best-kept secret in local marketing.
It doesn't cost a dime, yet 56% of local retailers have yet to claim their listing. That's like turning down free money from the government!
What Is Local Search?
Local search is any search with local intent that displays localized search results.
I realize that's a convoluted and less-than-helpful definition, but bear with me.
When you search for "plumber," Google assumes you're looking for plumbing help, not a wiki article or dating site. Plus, you're searching for a plumber nearby and not in Nepal.
Google answers your query with a Map Pack of three top plumbers, their average customer rating, and their business name, address, and phone number.
Google also shows you their distance from your search location. Google values proximity.
Most local searchers will never venture past the search results page. They'll call a business in the Map Pack or get directions to the business address.
A featured position in the Map Pack thus becomes the Holy Grail of local search.
You can't buy your way in or spam your way in with keywords. So how did they get there? And from whence does Google pull its information?
Not from optimized websites but from Google Business Profiles that your competitors claimed and verified while you ignored yours.
What Is Google Business Profile (GBP)?
Google automatically creates a listing of any business with a physical address. This is your "Google Business Profile."
Google does this not out of kindness but because it needs accurate information for Google Maps.
Now here's the rub. Google's automatically-generated profile may contain errors: wrong phone number, wrong business hours, etc.
Therefore, Google relies on owners to review and correct their business information. Your business will be eligible for the Map Pack only when you do.
That's why you should claim, verify, and optimize your GBP, which you can do for free, or hire an agency that isn't learning on the job.
How Local Search Differs
GBP optimization is a far cry from traditional search engine optimization (SEO).
The two things use the same term — "optimization" — but that's where the similarity ends.
Traditional SEO concerns itself with keywords, site architecture, internal linking, page load speed, etc.
But would it surprise you to learn that keywords make no difference for your GBP?
Local search looks at:
Relevance: Will your business satisfy the search? Are you listed in the right business category?
Proximity: How close is your business to the searcher?
Reputation: Do customers approve of your service, or do they pan it with one-star reviews?
Engagement: Do you respond to customers who contact you through GBP?
That's pretty much it. Four (or so) factors and not the 200+ of SEO. No coding or special expertise.
But those four (or so) factors are really, really, REALLY important. Really.
How to Optimize Your GBP for Local Search
Step #1 is to claim and verify your Google Business Profile. Search your business name, and you should see a link to claim the business in the listing that appears.
That was easy enough. Are we done now?
No, because you still have to verify the listing, and to this end, Google sends a postcard with a verification code to your business address.
No business address, no GBP profile — that's how it works — and you can't fool Google by using your home address for your business. It has to be an office, warehouse, restaurant, or store location with 9 to 5 worker bees (or whatever your hours may be).
Remember, Google can see you from space and has those creepy self-driving cars with cameras scanning all directions. Don't mess with Google! Enter the verification code and be quick about it!
So now that you've verified your business profile, let's go through the steps of optimizing it.
1. Update your business information to match your website.
Your website and GBP should display the same phone number, address, and business hours. Make sure everything in your GBP is accurate and up-to-date, including the links to your website and contact page.
2. Choose the right primary business category.
This is critical for local search. A plumbing company will seldom appear in HVAC results, even if it does plumbing and HVAC. You can select several business categories in GBP, but your primary category matters most and will (mostly) determine the type of searches you might rank for.
3. Update your business description.
Get to the point and give people a reason to call your business. They don't care about your history or motto, only that you can solve their problem.
Don't stuff keywords into your 750-word description (the Google limit). Keywords help customers understand your business, but in your profile, they have zero impact on your ability to rank.
4. Add photos of your business.
Surprise, surprise — customers like to browse photos and want to see who you are.
So a GBP with plenty of photos gets more views than a profile without. Photo and media uploads offer one of the easiest and best ways to get more eyeballs on your business profile.
What kind of photos work best? Anything of potential interest to customers. Your logo, the storefront, the office and the people in it, snapshots of workers on-site, staff photos and photos of finished jobs, etc.
No stock art, no promotions. You're creating an image gallery of your business, not a hoarder's scrapbook.
5. Respond to customer messages and reviews.
Google tracks and grades your customer engagement and is displeased when you leave customers hanging. So if someone contacts you through the built-in GBP messenger service, answer their question or direct them to the right information on your website.
Thank any customer who posts a positive review, and address the concerns of any customer with a grievance. Google is watching 24-7. 1984 has come and gone. We're now in 1984, Google Version 2.
6. Request customer reviews.
You can't request reviews directly through GBP, but Google gives you a review link to share with customers.
Ask them to leave a review when the job is complete, but never pay them to do it. Paid reviews are a definite no-no — enough to get your profile suspended. Google wants an honest system, and if your reviews suck, well, it's probably your fault.
You'll encounter the occasional "review troll," in which case you can appeal to Google and possibly have the review taken down.
But a bad review isn't catastrophic as long as most reviews are positive. Multiple bad reviews are a disaster.
Among the factors you control, the quality, frequency, and recency of your Google reviews impact local search visibility the most.
7. Post offers and notices.
Are you running a seasonal promotion? Feature it on GBP. Did you update a blog? Link to it.
GBP is a narcissist who thrives on attention. Plus, the offers and notices you post will enhance the profile customers see. Your 10% off HVAC promo may get more traction on GBP than on your own website.
8. Clean up your "citations."
Citations are listings of your website across the internet. You may have created them back in the day, or maybe a go-getter employee with time to burn.
Scraper bots scour your site and generate some citations automatically. Yelp counts as a citation. Even Bing Places for Business.
But those citations don't always update when you move to a new location or change your phone number. They can display the wrong address, phone number, business hours, and even business name.
That's a problem for your localization signals; all that conflicting information casts doubt in the AI mind of Google.
So what's a local business to do? — a citation clean-up campaign is in order.
Best of luck as you track down all those citations in cyberspace and update them one by one. Or you can do the smart thing and hire an agency like Culture Cube to clean up for you.
We don't mind citation messes because we have software and platforms to help us. And because, when you get down to it, anything's better than blogging.
9. Import your GBP to Bing.
It's the easiest task in the digital world to import your optimized GBP profile to Bing.
Go to Bing Places for Business.
Create a login.
Import your Google Business Profile.
Choose the right category for your business.
Make adjustments as needed.
What's the benefit? A correct citation on a site of consequence and the tiniest bit of incremental traffic. The cost? Ten minutes of your time, maybe less.
Monitoring the Results
Agencies like Culture Cube use dedicated SEO platforms to track local search performance.
Few local businesses have the budget, need, or expertise for SEO tracking, but Google does offer a way to monitor your profile.
The GBP performance dashboard tells you how many people viewed your profile, how many calls it generated, and how much traffic it directed to your website.
It compares the performance of your photos to those of similar profiles and informs you when someone views your promos.
In short, the GBP dashboard is another useful free tool from Google to help you reduce the guesswork.
 About Culture Cube Digital Marketing
Culture Cube specializes in digital marketing for local businesses. Our clients include plumbers, HVAC installers, appliance repair companies, and local newspapers.
We offer the expertise of a large agency at small agency rates.
Because we specialize, we're better qualified to market your business and devise the most effective campaigns.
We don't waste client money on lavish offices, fancy equipment, costly business trips, and endless meetings. We pass our savings on to you and welcome you as a partner more than a client.
Please contact us to learn more.

Peter Losh is the SEO Director of Culture Cube Marketing in Upland, California. He's also a de facto UX designer, site builder, and content creator. Unlike most folks in the SEO biz, he works directly on the sites he optimizes, having witnessed the effects of recommendations that go ignored or misunderstood (in previous gigs).
Peter has worked on websites since the salad days of the internet, first as a graphic artist and web designer at the Centers for Disease Control. Then came several years of freelance web development, SEO and e-commerce management for business sites of various sizes, and ultimately a 10-year stint as the sole SEO Manager of PartyCity.com.
In his spare time, he enjoys classic film, classical music, and classic comebacks. And cats.
Professional Work Experience
Search engine optimization
Ecommerce management
Conversion rate optimization
UX design and analysis
Copywriting and training
E-mail campaign design
Web design and development
Graphic design