AI Didn't Write this Blog. Or Did It?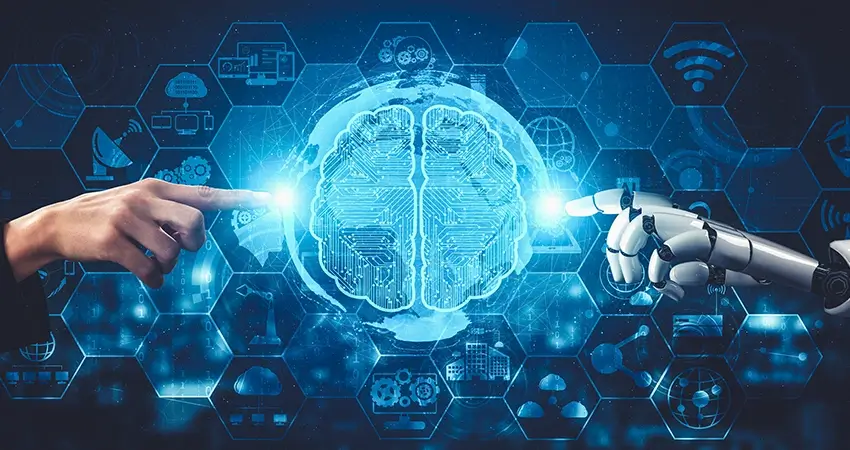 AI (artificial intelligence) has a greater impact on your life than you may realize.
Google uses AI in its algorithm, which is no longer under the complete control of developers. Google's AI is an independent agent, and the algorithm, by some accounts, has near human intelligence.
AI bots have famously infested social platforms and even influenced elections.
Your smart thermostat learns your patterns and preferences through AI.
Google and Tesla have self-driving cars.
And the web copy you bought from a cut-rate writing service? It may have been AI-generated.
Yes, folks, AI now encroaches on the sanctum of digital marketing, and I'll be the first to admit it replaces mediocre junior copywriters (who comprise the vast majority of copywriters).
But it doesn't replace good copy. Let me explain.
What AI Copywriting Platforms Do
AI writing platforms take open source code, refine it, and customize it into a usable service for marketing grunts.
Jasper is one such example, the platform we use at Culture Cube.
Does Jasper do the writing for us? No, but it reduces the time it takes us to write.
It assumes the role of junior copywriter and can simplify research and generate ideas. It needs heavy editing, like a junior writer, and a lot of help to stay on track.
Jasper is wordy and repetitious.
Copy tends to be bland.
Jasper's jokes fall flat, like a 6th grader's.
Jasper's incapable of truly original ideas.
Jasper has no sense of timing or pace.
See? Just like a junior writer.
Don't get me wrong — we love Jasper at Culture Cube and wholly endorse it as a tool in the digital marketing chest.
But an experienced editor takes that rough copy, polishes it, and makes it engaging for readers.
One nice thing about Jasper is that it doesn't squawk in protest or call its mom when we edit the heck out of its prose. And it's much cheaper than paying someone to learn on the job, who doesn't know squat about your business.
How AI Helps Us Write
The best AI writing platforms have templates for press releases, blogs, Google Ad copy, etc. Am I using a template now?
Nyet, because I have no internet connection (until later today) and am blogging only because I'm bored to death. I'm on my sixth blog in three days.
Even in a perfect world of AI connectivity, I shun templates, which aren't that helpful with the specialty copy we write at Culture Cube.
Part of the problem is that most websites for plumbers, electricians, locksmiths, and appliance repair technicians have a dearth of information about their services.
Jasper has little to draw from. Jasper learns by crawling millions of pages on the internet, indexing their content, and reproducing (but not directly copying) relevant information in the style you set.
It does wonderfully well with FAQs and blurbs but tends to bog down in longer paragraphs, sometimes verbatim repeating sections above it (when it runs out of ideas).
So my approach is to manually build out the first 400 words or so of a page, enter headings below in outline form, and let Jasper flesh out the copy.
The result gets me 50% of the way and allows me to produce a page of quality copy that used to take a day in three to six hours.
How AI Saves You Money
Gee, I thought I just covered the point, but the benefit of AI to our customers is that we can churn out more copy in less time. The quality improves in most cases — not because AI produces superior copy (which it doesn't), but because we have more time for careful edits and coherent copy organization.
A greedier agency would charge full freight for less work, but at Culture Cube, we pass the savings along to you by charging less or doing more work for the same price.
AI Speaks!
And now, let's hear what Jasper has to say, unfiltered and unedited.
Say something, Jasper!
(Jasper speaks!)
Jasper is a content generation platform that uses AI to help simplify the content creation process. Jasper indexes millions of pages on the internet to learn about different businesses and their services, then produces content in a style that you set. While it's not perfect, Jasper can help reduce the time it takes to write quality copy.
Jasper can help you create quality content more quickly. It does this by crawling millions of pages on the internet to learn about different businesses and their services. You can set the style for Jasper to write in, so it doesn't take as long for you to create content that looks good and is accurate.
Jasper's a great tool, but it needs a skilled editor and fact-checker to produce the best content. At Culture Cube, we have the experience and knowledge to ensure that your content is accurate and engaging. Contact us today to learn more about how we can help you create quality content quickly and affordably.
There you have it. Not bad for a bot!
About Culture Cube Digital Marketing
Culture Cube specializes in digital marketing for local businesses. Our clients include plumbers, HVAC installers, appliance repair companies, and local newspapers.
We offer the expertise of a large agency at small agency rates.
Because we specialize, we're better qualified to promote your small business and create the most effective campaigns.
We don't waste client money on lavish offices, fancy equipment, costly business trips, and endless meetings. We pass our savings on to you and welcome you as a partner more than a client.
Please contact us to learn what we can do for you.

Peter Losh is the SEO Director of Culture Cube Marketing in Upland, California. He's also a de facto UX designer, site builder, and content creator. Unlike most folks in the SEO biz, he works directly on the sites he optimizes, having witnessed the effects of recommendations that go ignored or misunderstood (in previous gigs).
Peter has worked on websites since the salad days of the internet, first as a graphic artist and web designer at the Centers for Disease Control. Then came several years of freelance web development, SEO and e-commerce management for business sites of various sizes, and ultimately a 10-year stint as the sole SEO Manager of PartyCity.com.
In his spare time, he enjoys classic film, classical music, and classic comebacks. And cats.
Professional Work Experience
Search engine optimization
Ecommerce management
Conversion rate optimization
UX design and analysis
Copywriting and training
E-mail campaign design
Web design and development
Graphic design