Is Your Contact Page Costing You Business? 6 Barriers to Conversion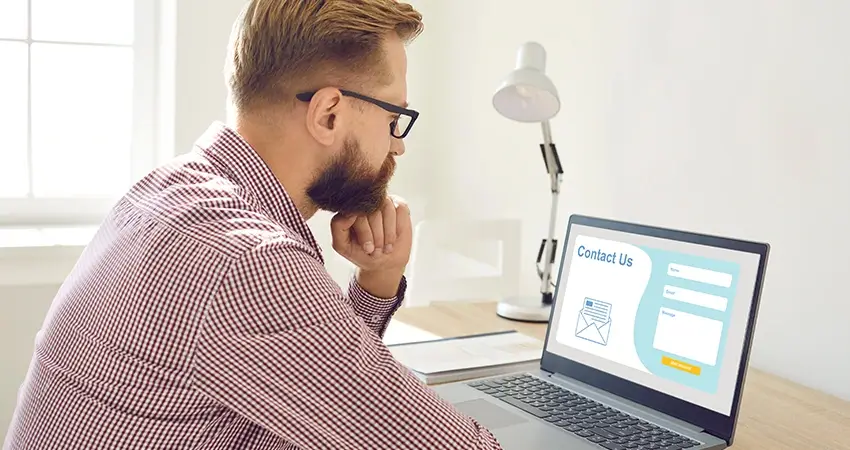 On most local business websites, the "Contact Us" page is an afterthought.
It shouldn't be. It's potentially the most valuable page on your site.
The task of "designing" the page, if you can call it that, usually goes to a developer with little UX experience. A graphic designer may contribute an image or two. What more do you need?
Guidance, for one thing. UX analysis: what's the customer trying to accomplish, and how can you remove any barriers to conversion?
And how do you define "conversion" on a local services site?
Local business owners want leads in the form of:
Phone calls
Contact form submissions
And they usually want the leads in that order: phone calls first, form submissions second.
But a few common mistakes on your contact page could discourage customers from making a call or filling out your form.
Here, we're listing six of the prime offenders.
1. Missing Information
How many times have you seen nothing but a form on a contact page?
We get it. Minimal design. No clutter, to the point.
But what about a phone number, address, and business hours?
You already feature those in the global footer, you argue.
But most users won't scroll to the footer, especially if they enter your site through the contact page. Scroll data tells us that many desktop users don't bother to scroll past the fold.
On your contact page, give customers two ways to contact you: phone and form. Phone calls will always outnumber form submissions. We see this on all local business sites we manage.
List your phone number and business hours first. If you're open, customers will call. After hours, they're more likely to fill out the form.
In your form, ask customers which contact method they prefer: phone, email, or text.
2. No Guarantees & Assurances
Are prospects aware of your guaranteed free quotes? Have you told them when to expect a response to their form submission?
Your contact page is more than a data collection endpoint. It's a critical sales point for your service.
If you offer guarantees, senior and military discounts, and anything else of particular interest, say so on your contact page — but don't be wordy.
3. Poor Page Organization
Let's say you have a two-column layout on your contact page. Should you place the form to the left or right?
In 2022, over 50% of US website traffic comes from mobile devices. Does that change your answer?
We know that most customers prefer to call, and we know from personal experience what a pain it can be to fill out a form on a smartphone.
Place your phone number and business hours to the left, so that they display first on mobile phones. The form goes to the right. Always test your contact page on a mobile device to iron out kinks in display and UX — giant headings, tiny text, inadequate line spacing, etc.
4. Badly Designed Forms
You've heard it a million times. Ask for the bare essential information on your contact form. Otherwise, prospects will bounce.
That's not strictly true. Prospects will enter any information they deem relevant — to a point.
But if you own a moving service, it makes sense to collect the following information:
Approximate date of the move.
Current location and destination (starting city, destination city)
Type of move — house, townhouse, or apartment?
How many rooms?
This may seem like a lot, but it will save prospects the trouble of communicating the information over the phone, and it helps you prequalify your leads and offer a meaningful estimate.
When forms become overly detailed and invasive, that's when you start to lose business.
An example of an overly detailed form is the one-pager that should be broken down into steps, or the form covering several stages of the customer journey and asking for too much information too soon.
An invasive form might ask for credit card information before the prospect has agreed to service or pose a personal question irrelevant to the transaction.
Form Design Basics
Form labels should be clear and placed outside the form field, not inside. Labels should be close to the fields they describe. A common mistake is to keep uniform vertical spacing throughout a form. This makes it hard for the user to distinguish if the label refers to the field above or below.
Eliminate placeholder text (text inside the field).
Stack your form fields vertically, not side-by-side.
Match the form field size to the approximate length of the entry. Don't extend the field across the page if you're asking for a zip code.
Indicate which fields are required and which aren't. A simple asterisk will do.
We recommend the Norman Nielsen website for more on form UX (user experience) or any other UX questions.
And to go deep into the innards of form design, and better understand the dos and don'ts, Forms that Work by Caroline Jarret is the UX Bible of form design. It's a bit pricey, but your local library may have a copy, or you may be able to find a PDF floating in cyberspace.
5. Visual Clutter
We've already touched on this, but it bears repeating: keep your contact page clear and clean. By this, we don't mean you should strip it of information. But you should group all information logically so that it's easy to read, and you should present it in a logical sequence: the most important information first.
6. Slow-Loading Pages
Pages with forms are often among the slowest to load on a site. But impatient internet users, especially mobile users, are unwilling to wait more than a few seconds for a page to load. The longer it takes your contact page to load, the more leads you lose.
Limit the fields on your contact form and the images on the page, but you may also have to optimize your site settings for page load. WordPress has several good caching plugins that can help but may not be able to solve all your page load problems.
For that, you may need an expert. Whenever you're ready for expert advice, please call us at Culture Cube.
Here is a link to our optimized contact page.
References & Further Reading

Peter Losh is the SEO Director of Culture Cube Marketing in Upland, California. He's also a de facto UX designer, site builder, and content creator. Unlike most folks in the SEO biz, he works directly on the sites he optimizes, having witnessed the effects of recommendations that go ignored or misunderstood (in previous gigs).
Peter has worked on websites since the salad days of the internet, first as a graphic artist and web designer at the Centers for Disease Control. Then came several years of freelance web development, SEO and e-commerce management for business sites of various sizes, and ultimately a 10-year stint as the sole SEO Manager of PartyCity.com.
In his spare time, he enjoys classic film, classical music, and classic comebacks. And cats.
Professional Work Experience
Search engine optimization
Ecommerce management
Conversion rate optimization
UX design and analysis
Copywriting and training
E-mail campaign design
Web design and development
Graphic design