Does Your Small Business Need a Marketing Calendar?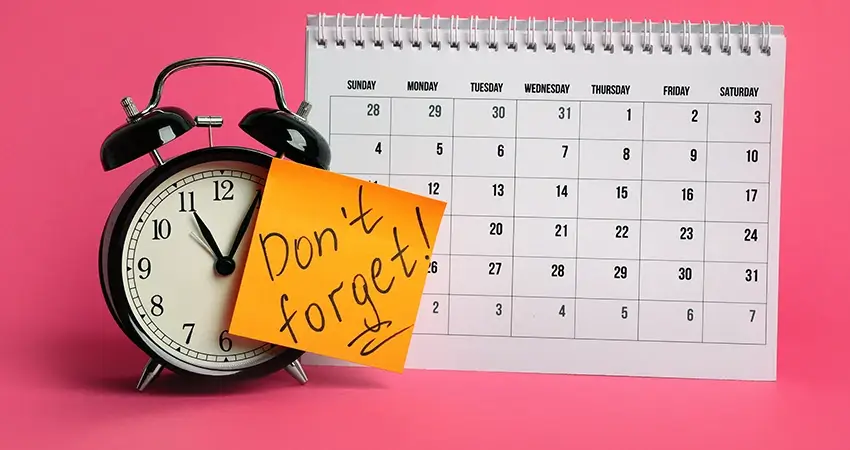 As a small business owner, you're responsible for day-to-day operations, customer service, and maintaining your finances.
On top of all that, you need to market your business! Marketing is critical to the success of any small business, and it can be challenging to do effectively — or find the time for it.
50% of small businesses don't have a marketing plan. We're talking about plans here — we haven't yet touched on marketing calendars, the topic of this blog,
It should come as no surprise then that 20% of small businesses fail within the first year, and only half survive beyond five years. The odds are stacked against them, especially if they lack a business plan and a calendar to help them execute that plan.
What Is a Marketing Calendar?
A marketing calendar is a visual tool to plan and organize your marketing efforts. It lets you track deadlines, set budget goals, and measure results. It keeps everyone motivated and accountable and puts marketing goals top of mind.
In its simplest form, a marketing calendar can be a Microsoft Excel file or Google Sheet containing a list of marketing tasks for a project, the deadlines for those tasks, a description of the assigned task, and the person responsible for completing it.
But the free or cheap solutions are limited, and at some point, you may have to invest in a full-featured marketing calendar platform. It sounds expensive, but it doesn't have to be.
The best marketing calendars help you visualize your marketing plan and make it easy to track progress and results. They offer features like team collaboration, content management, and workflow automation.
Integrated analytics identify the most important channels for your business and which key performance indicators matter most for conversion and revenue.
Why Is a Marketing Calendar Important?
Every corporation keeps a marketing calendar, usually several — one for the website, one for public relations, etc. So it may seem as though a marketing calendar is just a corporate thing.
Large corporations have huge marketing teams and often the resources of an outside agency to handle campaigns and tasks. Each campaign may have its own team of strategists, writers, graphic designers, and project managers.
But a small business doesn't have the same resources — or budget — as larger enterprises. It's critical to use your time and money wisely, and a marketing calendar helps you do that. It lets you plan so you're not scrambling at the last minute and wasting time, money, and effort.
It tracks your progress.
A calendar shows you which tasks are complete, which are current, and what's in the pipeline. It indicates when to work on tasks to meet deadlines and what contingencies those tasks might have.
It ensures that deadlines are met.
The whole team and sometimes the entire company can view your marketing calendar. Everyone knows the deadlines and responsibilities. This prevents miscommunication down the line.
It helps your team plan.
Calendars are ideal for brainstorming. The calendar becomes a working document as team members add their ideas, comments, time estimates, and concerns.
It keeps everyone focused on the same goal.
Your calendar ensures that marketing efforts are aligned with your business goals and eliminates time spent on tasks that don't further the company's objectives.
It shows you what's working and what isn't.
If a campaign isn't working, you can quickly adapt. A marketing calendar keeps tabs on your progress and results so you can fine-tune your campaigns.
It saves time in the long run.
Everyone on your team will know what to do and when to do it.
Types of Marketing Calendars
Depending on the scope of your marketing efforts and the size of your team, you may need several calendars — an overview calendar for the entire marketing department, a content calendar for the writers, and so on.
Marketing Overview Calendar
An overview calendar presents the big picture and ties together many smaller campaigns. It includes everything from product launches to ad campaigns, social media posts, and blog articles. It might also include target dates for sales goals or other important milestones.
Your overview calendar helps the team see how each campaign or project contributes to the larger marketing strategy.
Campaign Calendar
A campaign calendar is more detailed than an overview calendar and contains specific dates, deadlines, and deliverables for each marketing campaign step.
Your campaign calendar might include:
The launch date
Dates for key milestones such as design completion, approval from stakeholders, copywriting deadlines, etc.
Publishing or airing dates for ads, blog articles, or social media posts
Social media hashtags
Promotion and sale dates
Customer surveys or feedback collection dates
Content Calendar
If your team focuses on content creation — blog articles, podcasts, videos, etc. — you need a content calendar to track topics, due dates, assigned writers, and published pieces.
A content calendar might also include:
The topics of upcoming pieces
The target audience for each piece
SEO keywords to include
Links to related images or videos
Promotion and distribution plans
Any other notes or details
Your content calendar ensures that your team produces quality content on a schedule.
Multichannel Campaign Calendar
This type of calendar helps you plan ad campaigns that use multiple channels, such as print, online, radio, and TV.
It can also help you follow offline activities such as trade shows or direct mail campaigns. A multichannel calendar is vital for businesses that rely heavily on advertising to promote their products or services.
Social Media Calendar
A social media calendar schedules posts for your social media accounts so that you're regularly sharing content with your audience.
It can also reveal which social media platforms are most valuable for your business and which generate the most engagement.
Events Calendar
If you plan or host events, you'll need an events calendar to track deadlines, venue availability, and other important information. It might also include a task list to ensure no detail is overlooked.
Paper Calendar: The Calendar to Avoid
An old-school paper calendar may have been the only option in 1992, but you have far better digital options today.
The drawbacks of a paper calendar are apparent to anyone accustomed to flexible digital calendars:
It's hard to share in the office and impossible to share away from the office.
It's easy to lose or misplace.
It limits the amount of information you can include.
It's difficult to track changes or enter revisions.
What Features Do You Need in a Digital Marketing Calendar?
A good marketing calendar should offer most if not all of the following features.
Cross-platform synchronization: Your team should be able to view the calendar across multiple devices and locations and make changes to it.
Filters and search functions: As you increase your marketing events, campaigns, and holidays you'll need to filter information and search for events or campaigns.
User-friendly functions and interface. If your calendar is too complex and convoluted, some team members will never use it, and no one will use it to its full potential.
Multi-user support with permissions: Good digital marketing calendars allow different access levels to protect sensitive information and prevent mistakes.
Tracking features: These show you the progress of your marketing campaigns and help you spot any potential problems or bottlenecks.
Analytics and reporting: A marketing calendar should generate helpful reports on your campaigns and marketing efforts.
Flexible entry options: Not all marketing events or campaigns can be expressed in traditional calendar format. You should be able to enter data in multiple ways.
External content integration: Your marketing calendar should integrate with your other software, such as Google Analytics, social media platforms, and your CRM.
Notifications: Notifications and reminders help to keep a project on track.
Getting Your Calendar Started
First, you grab your marketing plan! All marketing campaigns should serve the larger business goals.
Choose your platform.
It can be Google Calendar, Apple Calendar, Outlook Calendar, or a platform like Asana or ClickUp. We use ClickUp at Culture Cube and have folders for every client broken down by month and project type or campaign.
Choose or create your calendar type.
Your platform may have templates, or you may have to build a template from scratch. You might need a calendar for content development, another for community relations, and so on.
Map the marketing plan to the calendar.
Again, every marketing campaign should have a business goal it's working towards. Every task on your calendar should further that goal.
Build out your template.
Add the details of your marketing events and campaigns. Include as much helpful information as possible.
Assign tasks and due dates.
Use your calendar tools to assign tasks and set due dates. Make sure everyone knows when they need to complete their assignments.
Monitor and adjust.
As your marketing campaigns roll out, keep an eye on the calendar to verify that everything is going according to plan. If something isn't working, make adjustments.
Keep the calendar updated.
Marketing plans change, and your calendar should change with it. Update the calendar regularly to keep everyone on the same page.
What to Include in Your Calendar
Start with the holidays. What holidays are you closed for? Have limited hours on? Have sales on? Will you be running any holiday-themed campaigns? Add these to the calendar.
Include special events. This could be a grand opening, a big sale, or a special event at your store or office.
Add your planned marketing campaigns with the start and end date of each campaign, the type of content involved, who is responsible for creating it, and the deadline.
Add your content schedule. Include all blog posts, social media posts, emails, and other content you will create. Include the topics, due dates, and who is responsible for each piece of content.
Calendar Tasks: What to Include in the Details
Launch dates for campaigns and projects. When does your new product launch? When does your campaign go live? When is your website relaunching?
Deadlines for tasks like copywriting, design, approvals, etc. If a task has multiple steps, include each step with its due date, so nothing falls through the cracks.
Responsibilities for each task. Who is writing the blog post? Who is designing the campaign? Who is approving the copy? Everyone should know what they need to do and when they need to do it.
Conclusion
A marketing calendar is an essential tool for businesses of all sizes. It can help you track and schedule campaigns, create a unified marketing strategy, measure results, and revise your plans.
The best marketing calendars are user-friendly, offer cross-platform synchronization, support multiple users with different permission levels, and integrate with other software you use. They also generate helpful reports and include flexible entry options.
Not sure where to start? Start small with a calendar for an email campaign or blog content. Seeing how it performs may inspire you to create calendars for all your marketing initiatives.
Still have questions? Call us at Culture Cube.
Our team can work with you to set up a plan that works best for your business and helps you achieve your marketing goals.
Call us today for a free consultation. Let us show you how a marketing calendar can benefit you and your business!
References & Further Reading

Rachel Novotny is the CRM & Lifecycle Marketing Manager at Culture Cube in Claremont, California. She's created marketing automation strategies, implemented, and managed Customer Relationship Management and Marketing Automation platforms for Culture Cube for the last three years.
She's held certification in Marketo, Salesforce, Mailchimp, Hubspot and Google Analytics. She has experience managing lifecycle and email marketing campaigns for SAAS, Home Services, B2C, B2B, and Nonprofit sectors.
In her free time, she reads.