A Review of 2022 Marketing Trends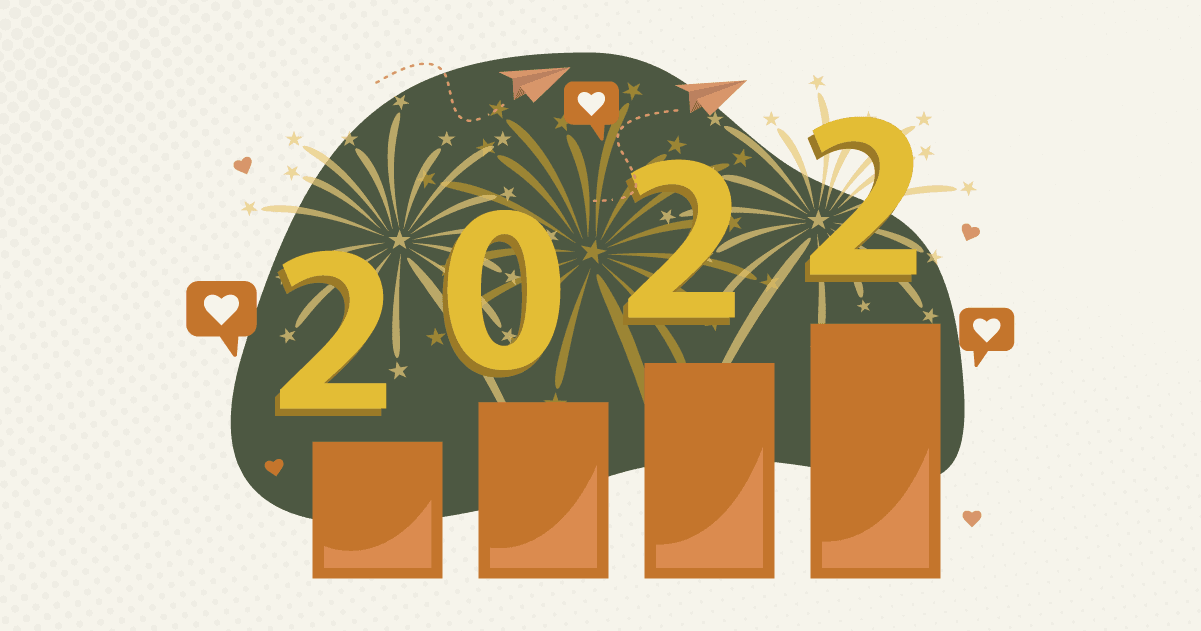 With the dawn of a new year comes the opportunity to look back at marketing trends for 2022 and how they changed marketing. Here is our review of some of the most popular trends that impacted marketing last year.
The Rise in Short-Form Content
2022 was the year for TikTok. The platform amassed over a billion users, with people spending an average of an hour a day on the platform. Go onto any social media platform, and you will see reposted content from TikTok. Trends that start there are reappearing as original content on other sites. Short-form content is everywhere and here to stay, so businesses need to learn how to leverage it.
Mobile Optimization
About 80% of the US population has a cell phone; it is increasingly one of the most popular methods to search the internet and view websites (Statista). 58.9% of website traffic comes from mobile devices, and 76% of adults have bought items online via mobile phone (Pew Research). 32% of adults use mobile devices to buy something once a week, which increases as age decreases (Pew Research).
Anecdotally, across all of our customers, most of the web traffic they received was from mobile devices. This trend from 2022 is only likely to continue. With attention spans shortening, a website that is clunky, hard to navigate, or busy on mobile will drive potential customers away. A mobile-optimized website is no longer a nice to have; it's a have-to-have.
Artificial Intelligence
Last year shocked the world as beta releases dropped of artificial intelligence art and writing platforms. Midjourney's beta release was in March of 2022; ChatGPT made shockwaves at the end of 2022 with what the platform could do. While artificial intelligence in art and writing is still nascent, this technology is still going strong. Canva, Mailchimp, and others have incorporated artificial intelligence writing and art into their products.
Most of these products still require a lot of editing and finessing, but it's getting better and better. This technology will continue to grow throughout 2023.
Social Media Customer Service
Years ago, every company was encouraged to have a Facebook profile for their business. As social media platforms grew, the number of platforms businesses needed to be on increased. Social media marketing is a known strategy, but using social media as a customer service tool is newer (Hubspot). People tweet at companies when something has gone wrong. 20% of Gen Z and 25% of Millennials report contacting a brand over social media for customer support (Hubspot). Having an active social media presence for marketing and ignoring customer support questions will backfire on businesses. Opening your direct messages to allow people to book appointments and services and ask questions was a growing field in 2022.
Micro & Nano Influencers
We've heard about influencer marketing for years now. And it has not gone away. However, what is effective in the world of influencer marketing is changing. More brands and businesses are reaching out to Micro and Nano influencers and seeing greater returns (Forbes). Nano-influencers have between 1000 and 10,000 followers, while micro-influencers have 10,000 to 100,000 followers.
While it still needs to be made clear why micro and nano influencers can have a better return on investment than traditional influencers, there are several hypotheses.
The first is that the audience is savvier. People are more aware that influencers are selling a product or service to them. They feel like they're the influencer is selling them something. Another is that they're suspicious of these products. Every year there is a big influencer marketing scandal. Each time consumers call out influencers and brands for false advertising (Polygon: BetterHelp Scandal). The scandals erode some of the trust people place in influencers each time an influencer is involved. Another is that the followers feel a greater intimacy with these micro and nano influencers. The lower follower count ensures that the influencer can respond to more comments and interact with more of their audience than influencers. Employees with a small following can be an excellent recruitment and advertising tool for your business and would fit the profile of smaller influencers.
2022 was a year of change for marketing, and 2023 will be no different. Short-form content is everywhere, mobile optimization is vital to success, artificial intelligence continues to make strides, social media customer service has become an integral part of a business's online presence, and micro-influencers are gaining traction as the go-to influencer. As marketers look towards the future with these trends in mind, they must also consider how their customers think and act on each platform. With thoughtful consideration of consumer behavior across all channels, companies can create strategies that capitalize on 2022's top trends while staying ahead of the curve regarding what consumers expect from brands in 2023.
Extra Reading:
https://distract.co.uk/resources/marketing-year-in-review-2022/

Rachel Novotny is the CRM & Lifecycle Marketing Manager at Culture Cube in Claremont, California. She's created marketing automation strategies, implemented, and managed Customer Relationship Management and Marketing Automation platforms for Culture Cube for the last three years.
She's held certification in Marketo, Salesforce, Mailchimp, Hubspot and Google Analytics. She has experience managing lifecycle and email marketing campaigns for SAAS, Home Services, B2C, B2B, and Nonprofit sectors.
In her free time, she reads.