20 Digital Marketing Mistakes That Hurt Your Local Business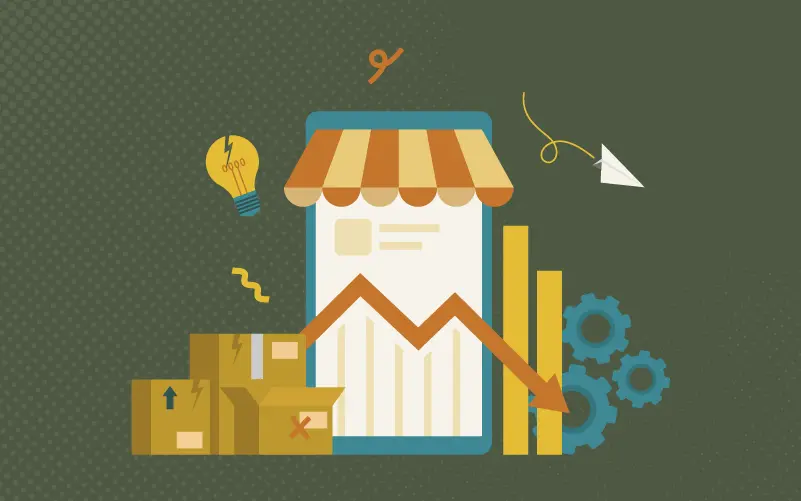 Most local business websites struggle to rank.
New clients come to us with badly broken sites. If they have any traffic, it's usually bought.
And no, I'm gearing up for a rant about small business search engine optimization. Today, I'll discuss something else: the easily avoidable mistakes many small businesses make with their online marketing.
We'll skip the more obvious problems like "not optimizing for SEO" and focus on less discussed issues.
Here's my curated — and by no means complete — list of 20 digital marketing mistakes that may be costing you business.
1. Not Claiming Your Google Business Profile (GBP)
Google creates a profile for any business with a physical location (office, dispatch center, warehouse, etc.). Information from this profile appears in local searches (as a 3-pack listing) or Google Maps.
How nice of Google to do the work for you! Except that it doesn't — not really.
You see, Google doesn't optimize your business profile. You get the basics, which may not rank at all in local search results.
For better results, you should claim and verify your GBP profile, then optimize it with complete and accurate information, photo and media uploads, regular posts, etc.
An unclaimed profile can have other problems as well:
Incorrect business hours, phone number, and address.
Inaccurate business description.
Dated photos.
Worse, until you claim your Google Business Profile, no one minds the store except Google moderators. Anyone can suggest an edit. Does John Q. Public know more about your business than you?
One study showed that 56% of local retailers never claim their GBP. What a waste! They may as well be burning money.
2. Not Featuring Service Area Information
Do you serve a specific geographic area? Is there a service area page on your website, maybe with a map and a list of cities underneath? Do you link to that page from global navigation?
Prospects will ask themselves three things:
Does the company offer the services I need?
Does the company operate in my area?
Can the company be trusted?
How soon can they be here?
Okay, so that was four things, but you get the point. People look for reassurance. Once they have it, they might call you.
3. Not Building "City Pages"
Versioned "city pages" present an easy way for local business sites to generate incremental local traffic.
The idea is to create an SEO-friendly page about your services, then "version" it with geo-targeted information for each city you serve. "Plumbing Repair in Anaheim," "Plumbing Repair in Huntington Beach," etc.
You don't need a ton of city-specific content on these pages, but the more unique and information-rich you make them, the better they'll perform.
4. Not Placing NAP in the Global Footer
NAP refers to "name, address, and phone." Your NAP should appear on every page of your website, preferably in the global footer.
Make it easy to find. Customers won't comb your site for contact info, nor will Google, which looks at your website's NAP and business hours to confirm that your GBP information is correct.
That innocuous NAP text in the footer directly impacts your ability to rank in local searches. Don't leave it on the cutting room floor during your next website redesign.
5. Not Cleaning Up Citations
Your business name, address, and phone number (NAP) are listed on dozens of third-party sites (directories, social media sites, etc.). These are called "citations," and their information may be wrong.
Take a proactive approach to correct as many erroneous citations as possible. Here, it pays to hire an agency like Culture Cube with access to platforms that identify citation inconsistencies and fix them affordably.
Your NAP across the internet will never be 100% accurate, but the closer you get to perfection, the better your local search results will be.
6. Not Posting an About Us Page
Customers want to know who you are and if they can trust you.
That's the purpose of the About Us page, which should summarize your business history, highlight your values, and feature brief bios of key personnel.
Images should project the company's personality. Photos of the team in action will forge an emotional connection with customers thinking about doing business with you.
7. Not Considering Contact UX (User Experience)
Your contact page is a critical point of sale. Look at it from a customer's perspective — does it sell the service or transaction?
Your contact info should be front and center. Place your phone number in the global header and over a big button that reads "Contact Us," "Schedule Service," or "Get Your Free Quote."
The contact page should offer multiple methods of communication:
Phone number
Easy-to-use contact form
Email address
Give your customers incentives for using the contact form or calling you directly, and list the discounts you honor:
Senior
Military
Student
First-time customer
Etc.
Let customers know which forms of payment you accept.
Avoid the word "Submit" on the contact form button! Change it to something that encourages action.
For more information, please read our blog about contact page UX.
8. Not Showing Credibility Signals & Guarantees
Your site visitors are sizing you up. Are you honest? Can you do the job?
So it makes perfect sense to feature your professional memberships, certifications, and awards on your site. Recent testimonials from satisfied customers. Money-back guarantees.
Anything demonstrating that you stand behind your work will boost confidence in your business and attract new customers.
10. Not Explaining Services Clearly
How often have you slogged through the first dense paragraph of a web page without understanding a word?
People don't read online — they scan.
Your service pages should have clear, concise descriptions of what you do, supported by images and bullet points.
Keep paragraphs and sentences short.
Use digestible language. Back up your claims with facts, figures, or customer testimonials.
Place the benefits of your service above the fold, along with a call to action ("Schedule Service").
11. Not Including Prominent Calls to Action (CTAs)
Every page on your website should have a unique purpose and a call to action. What do you want visitors to do?
Make it obvious with compelling calls to action on every page. "Schedule Service." "Contact Us Now." Get Your Free Quote."
Use big, high-contrast buttons. Designers hate them, but they convert so much better than subtle CTAs!
Make sure that buttons and text links look clickable!!!
Test different button colors, shapes, sizes, page placement, and messages until you find the best CTA for your target audience.
You should include CTAs in blog posts, too — as long as they're relevant to the topic and not too salesy.

12. Not Designing for a Mobile Audience
Google has been a mobile-first search engine since 2018, meaning it's paying more attention to the performance of websites on mobile devices than ever before.
If your website isn't optimized for mobile and looks like a shriveleded version of its desktop cousin, now is the time for changes.
At a minimum, you'll need a responsive design that resizes when visitors switch from one device type to another.
Ideally, since over 50% of your audience is mobile in 2023, you should prioritize mobile site design over desktop.
13. Not Creating a Custom 404 Error Page
A 404 error page is where visitors land when they click a broken link to or on your website.
A custom 404 page can be an opportunity to guide users in the right direction and avoid losing them altogether.
It should have a brief message explaining the problem, include links to other pages on your site, and invite visitors to contact you for help.
Most customers will abandon a site when they reach a 404 page. But with a little effort, you can recapture some of that lost traffic.
14. Not Managing Server Redirects
A redirect takes visitors and search bots to a new page whenever they follow a link to a page that no longer exists. Without the redirect, visitors will see a 404 error message.
301 redirects ("file permanently moved") preserve your search rankings and protect against broken links. Manage them carefully. Google doesn't like site errors and redirect chains, and a visitor who lands on a 404 error page may be lost forever.
Tools like Screaming Frog can verify that redirects are working as intended and that site links are optimized. WordPress plugins like Redirection track 404 errors on your site. Always redirect the ones that matter.
15. Not Keeping up with Maintenance & Updates
Regular maintenance keeps software and plugins up to date, improves user experience, protects against security threats, and builds your site's SEO.
Keep your site software updated, including plugins and themes. Back up your files in case something goes wrong.
Perform regular audits to identify problems with page load speed, broken links, headings, titles, meta descriptions, etc.
If possible, hire an agency to do the maintenance for you. Your website will be better for it!
16. Not Engaging in Off-Page SEO
Onsite SEO is only a part of the picture.
Off-page SEO activities like backlinking and social media outreach can increase your website's visibility and improve its ranking in search results.
List your website in relevant business directories and review sites like Angi and Yelp. Share content via social media to build relationships with potential customers.
Off-page SEO takes time, effort, and creativity, but it positions you as an authority in your industry and reinforces your brand message with a larger audience.
17. Not Incorporating Long-Tail Keywords
Long-tail keywords are longer, more specific phrases with lower search volumes but higher conversion rates.
They convert better than broad keywords and confirm to search engines that your website is a relevant destination for search.
My advice is to think big. It seems counterintuitive, but it's a wasted effort to go after every possible long-tail keyword and keyword permutation.
Start with a high-volume keyword like "HVAC." As long as you build multiple high-value pages around that keyword, with detailed and thorough information, you'll begin to rank for hundreds of long-tail keywords.
So write about "HVAC repair," "HVAC installation," "HVAC maintenance," etc., but don't dedicate an entire page to "low cost hvac repair" with 10 monthly searches! Incorporate the term in your page about "HVAC repair" instead.
To better understand how long-tail keywords drive traffic to your site, go to your Google Search Console, and under Performance, click on Search Results, then Pages.
You may see something like this: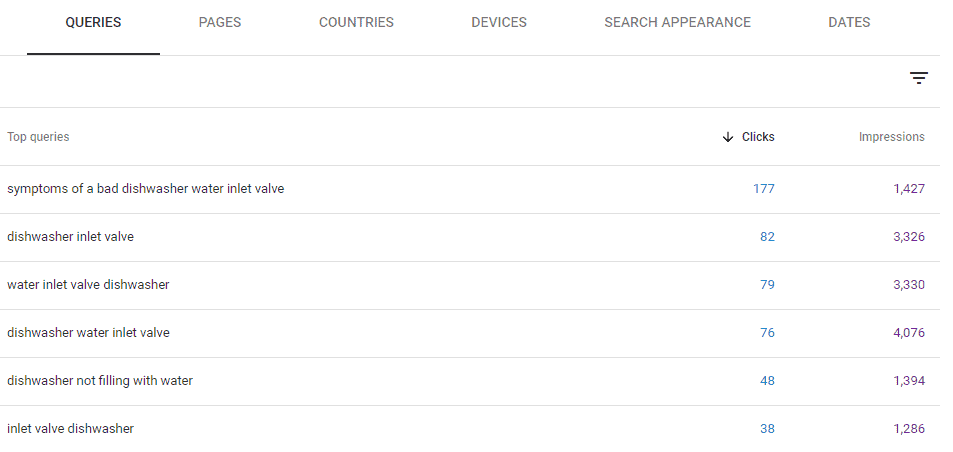 18. Not Optimizing Images & Other Media
Even the prettiest website won't attract an audience if it takes too long to load.
According to Google, 53% of mobile users abandon sites with over 3 seconds of load time.
Page load optimization is complex, but start by optimizing your website's images and other media.
Size them properly and compress them to reduce their file size. Sites like TinyPNG handle image compression for free.
Even better, you might convert PNGs and JPGs to efficient next-generation formats like WebP and SVG with a fraction of the file size. Our blog on WordPress and page load optimization covers the process in more detail.
Finally, every image should have an ALT tag to comply with the ADA (Americans with Disabilities Act) and not just for SEO.
19. Not Having the Critical Mass to Rank
A small business site can be too small to rank well. That is, too small to establish itself as an authority or worthwhile destination. Google will mostly ignore it.
At Culture Cube, we've decided that 30 or so unique, quality pages comprise the minimum critical mass for a local site to gain traction with search engines.
A 10-pager will probably sit in the SEO purgatory of 16 daily visits or fewer, joined in limbo by other too-small local business sites.
So, if you've launched a new website, you'll have to maintain it, continue building new content, and update existing content to attract organic traffic. Otherwise, your entire marketing budget may go to Google Ads.
20. Not Tracking Website Performance
Tracking lets you know if your website is performing well or needs improvement.
Every website owner should use free tools like Google Analytics and the Google Search Console.
Google Analytics monitors your website performance, including page views, user engagement, and conversions.
The Google Search Console shows which content works best and how well you're doing in the search engine rankings for up to 1,000 keywords.
Bing Places for Business offers additional insights, including site SEO audits, for absolutely free. All you have to do is create an account and import your Google Business Profile.
Armed with the data, you'll be better equipped to optimize your website for SEO, make UX adjustments, and build new content.
About Culture Cube Digital Marketing
Culture Cube specializes in digital marketing for local businesses. Our clients include plumbers, HVAC installers, appliance repair companies, and local newspapers.
We offer the expertise of a large agency at small agency rates.
Because we specialize, we're better qualified to promote your small business and create the most effective campaigns.
We don't waste client money on lavish offices, fancy equipment, costly business trips, and endless meetings. We pass our savings on to you and welcome you as a partner more than a client.
Please contact us to learn what we can do for you.

Peter Losh is the SEO Director of Culture Cube Marketing in Upland, California. He's also a de facto UX designer, site builder, and content creator. Unlike most folks in the SEO biz, he works directly on the sites he optimizes, having witnessed the effects of recommendations that go ignored or misunderstood (in previous gigs).
Peter has worked on websites since the salad days of the internet, first as a graphic artist and web designer at the Centers for Disease Control. Then came several years of freelance web development, SEO and e-commerce management for business sites of various sizes, and ultimately a 10-year stint as the sole SEO Manager of PartyCity.com.
In his spare time, he enjoys classic film, classical music, and classic comebacks. And cats.
Professional Work Experience
Search engine optimization
Ecommerce management
Conversion rate optimization
UX design and analysis
Copywriting and training
E-mail campaign design
Web design and development
Graphic design